When we asked shippers what their biggest challenges were in our 2017 State of The North American Supply Chain Survey, only 11 percent said they had issues with capacity. That number marked a 1 percent decrease from the prior year. On a graph, those numbers would appear to bode well for shippers as a sign of easing fears that a capacity crunch will not occur in the foreseeable future.
However, there are a growing number of indicators that truckload capacity will tighten in 2017. More concerning, though, these warning signs may even suggest that shippers and carriers will experience a significant truckload capacity crunch that could last for several years.
The Warning Signs On The Road Ahead
There are several factors that businesses should monitor with the regards to the future of their supply chain. Let's take a look at three indicators that might be pointing toward a possible truckload capacity crunch in the near future.
(1) Economic Optimism:
Analysts predict that U.S. economic growth will remain steady for the next couple of years as domestic production and consumerism have performed relatively well in recent quarters and show no signs of slowing down. Aside from traditional jobs data and GDP numbers, many businesses are optimistic about the current administration's campaign promises to roll back certain regulations and to reconstruct the current taxation model.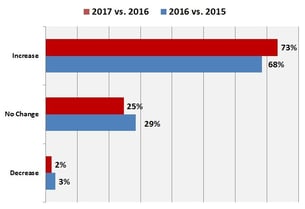 Our survey also showed that shipper confidence jumped from 2015 to 2016 by 5 percent (see graph). In fact, only 2 percent of our respondents expect to see a decline in shipments in 2017, whereas 73 percent are predicting growth.
In addition to the business-friendly atmosphere of the current administration, the private sector could also receive a significant boost from work associated with the president's plan to rebuild America's crumbling infrastructure. From building new schools and repairing aging bridges, public construction projects might experience a boon that has not been seen since President Eisenhower signed the Federal-Aid highway Act of 1956.
While the U.S. economy is performing well, it could come into direct conflict with other factors that will be playing against capacity in 2017 and beyond.
(2) Driver Shortage:
You've more than likely heard about it before and may even think the discussion is getting old. Nonetheless, the driver shortage is a very real issue that is affecting supply chains and shows no real signs of slowing down. According to the American Trucking Association, the average age of a truck driver (over-the-road) was 49 in 2015. Carriers and businesses with dedicated fleets have struggled to entice and retain younger drivers in the longhaul segment of transportation.
The increased regulatory environment has also made it more difficult to attract professional drivers for longhaul jobs. Many carriers, including Averitt, have been faced with the challenge of finding ways to make longhaul positions more appealing without passing the entire bill to the shipper. The key to finding a balance for the shipper and driver will require innovative thinking and looking at traditional transportation models from a new perspective.
(3) Impending ELD Mandate:
Another warning sign that shippers will need to take heed of is the impending electronic logging device (ELD) rule that will go into effect on December 18, 2017. ELDs will replace traditional pen and paper logs that truck drivers have used for decades to track their hours on the road. Carriers that fail to implement ELDs into their trucks will face hefty fines and could even be taken out of service.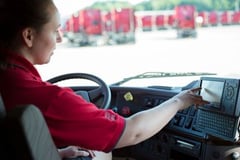 As a result of the mandate, carriers will have to take into account the expense of adding these devices to their trucks and training drivers to use them. Some companies may struggle to meet the deadline, which will affect capacity. However, many carriers, including Averitt, have been proactive to outfit their trucks with the ELDs ahead of time so that there are no issues.
On a positive note, the ELDs will create an even playing field for carriers and owner-operators of all sizes. The devices will ensure that companies are being held accountable for violating regulations that are set up to protect drivers and the general public.
What can Shippers Do Moving Forward?
If the indicators do point towards a perfect storm of sorts for capacity, business will need to be proactive in the months and years ahead. There are no quick fixes to the challenges that faces the longhaul market. Shippers, nonetheless, can begin addressing the issue before it becomes a liability.
(1) Alternative Transportation Solutions:
Navigating a capacity crunch generally involves paying higher rates and passing the costs down to customers, which no one enjoys. As shippers look forward and begin to identify cost-saving supply chain practices, it will be beneficial to also consider utilizing rail service for longhauls. Often, intermodal services can be very practical for a shipper. From potential price and transit benefits, intermodal solutions, such as trailer on flatcar (TOFC), can fit perfectly into a supply chain when implemented correctly.

#ShipperProTip: Learn more about the benefits of intermodal longhaul service by reading our article: To Ship Freight By Rail Or Road: That Is The Question.
(2) Identify Key Partners:
Often is the case during a capacity crunch, shippers will rely heavily on their transportation partners as more businesses compete for trailer space. Truckload partnerships are a symbiotic relationship for shippers and carriers. The shipper needs the space, and the carrier needs to be assured that their driver will be on the road. When shippers and carriers build a strong partnership and know that they can depend on each other, both teams will be able to succeed.
Finding the ideal transportation partner, however, will require research on the shipper's behalf. And with more businesses seeking direct relationships with asset-based companies to avoid transactional costs, many carriers will be forced to turn down loads due to the state of demand and supply during a truckload capacity crunch. For that reason, seek out transportation partners that can provide additional flexibility and capacity with intermodal and truckload brokerage services.
What are your thoughts? Are you already feeling the effects of an impending truckload capacity crunch or seeing signs that one is lurking around the corner? Let us know in the comments!