In late 2019, more than 1,800 shippers participated in our 5th annual State of the North American Supply Chain Survey. The following article examines a portion of the results. Click here to download the full white paper.
Three years ago, we predicted the truckload market would face a capacity crunch in our 2017 article "Warning Signs: A Perfect Storm for Truckload Capacity." Three factors weighed heavily into that forecast, including economic optimism, the driver shortage and the implementation of Phase 2 of the electronic logging device (ELD) mandate.
When we asked shippers what their biggest challenges were with carriers in 2017 and 2018, capacity was top of mind. From a five-year low in 2016 (11.12%) that increased in 2017 (19.29%) and peaked in 2018 (26.05%), capacity was the chief challenge that caused much concern for many truckload shippers.
However, 2019 marked a sudden downturn for the truckload market and many full-load carriers. The data from our most recent survey revealed that capacity issues dropped significantly year over year to 12.34% in 2019, marking a nearly 14 percentage point decrease. In terms of capacity, 2019 issues returned to levels experienced prior to the capacity crunch of 2017-2018. This sudden downturn was felt by full-load carriers across the country.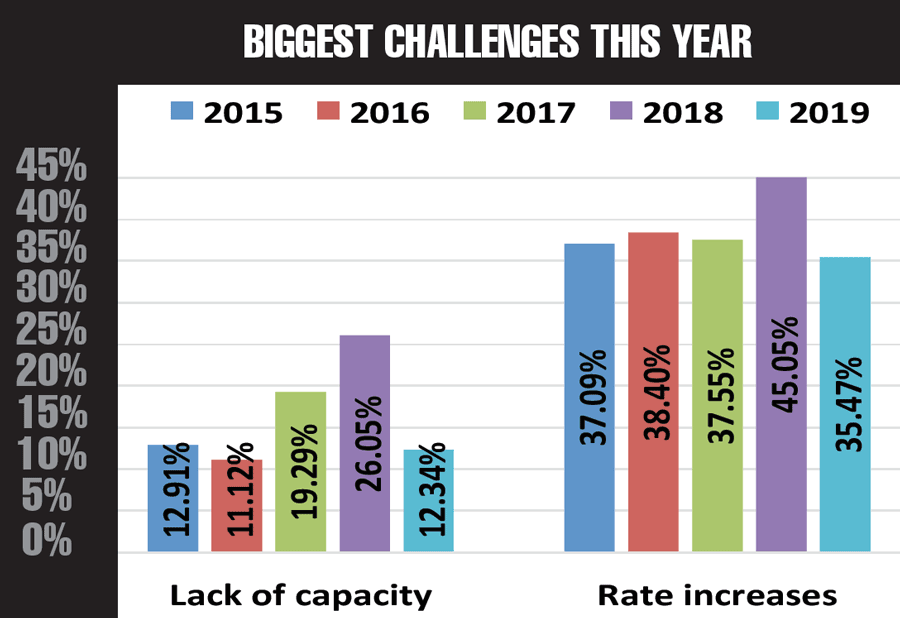 Carries Struggle Through 2019
As noted earlier, nearly 800 trucking companies shut down by mid-December. High-profile bankruptcies were reported frequently throughout the year as long-standing carriers, including New England Motor Freight Inc., Falcon Transport, LME, Celadon and GDS Express, permanently turned off the key to the ignition. Driving factors behind the closures in 2019 ranged from lower shipping volumes to ELD mandate strain, increased driver pay, higher insurance coverage and relying too heavily on a handful of large shippers that eventually switched to other carriers.
Factors To Keep An Eye On
What about 2020? The coming months will reveal how the implementations of new regulations, including Phase 3 of the ELD mandate (Dec. 16, 2019) and the Drug and Alcohol Clearinghouse (DAC) [Jan. 6, 2020], play out in the market. Many analysts expect the DAC to have a significant impact on the amount of truck drivers that are taken off the road. The effects of the DAC won't be felt immediately but should have a growing impact in the months and years ahead. It's difficult to predict whether truckload capacity will tighten, and if rates will increase in 2020 or not.
However, the truckload market may have reached a low point in 2019 that could lead to potentially higher rates and renewed capacity constraints in the face of new regulations with fewer trucks on the road.
International Shippers Hold The Line Through 2019
When President Trump entered the White House in January 2017, he promised to upend decades-old trade relations. For better or worse, depending on how the cards eventually play out, he did just that with a flurry of tariffs that have been tossed back and forth with key trade partners ranging from China to Canada, Mexico and Europe.
For many in the U.S., the trade wars have been embraced as an effort to bring about a more even-leveled playing field in global trade. On the other side, tariffs imposed back on the U.S. have been costly and detrimental to business. One thing is for sure: International supply chains are adapting as indicated by the growing number of businesses that have begun offshoring manufacturing and production from China to other Asian countries, such as the Philippines and India.
Before The Tariffs
Before the first round of major tariffs were exchanged with China and other nations, we asked shippers in 2017 how they thought the tariffs would impact their business. That year, 39% believed the effect would be positive, 17% said it would be negative and 44% said there would be little to no impact.
After The Tariffs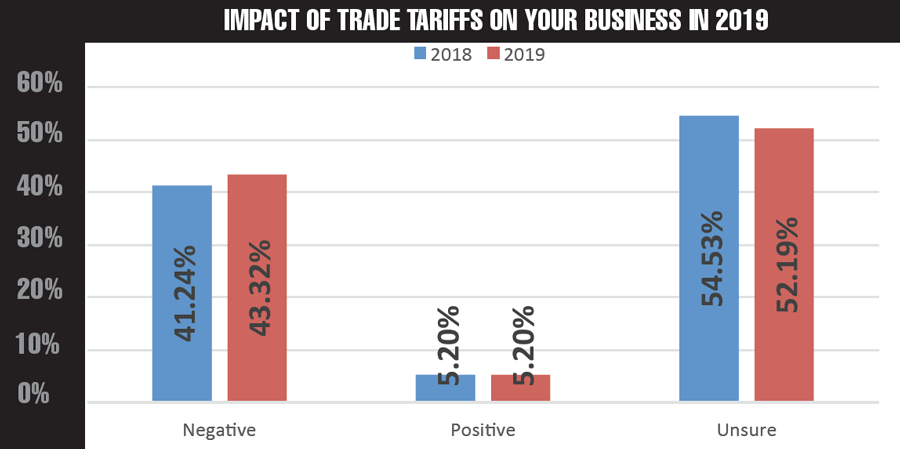 Since 2017, we have asked how the trade war has impacted business. The results have shown a complete reversal in comparison with what was anticipated prior. In 2018, 41% of shippers said the tariffs had a negative impact, while only 5% reported positive effects. The remaining respondents were unsure.
The results from the most recent survey, however, indicate that sentiments remained steady year over year. An increase of only 2 percentage points to 43% in 2019 indicated that the tariffs had a negative impact. At the same time, those who said it had a positive impact remained at 5% compared with 2018. These results should bring a certain amount of relief to shippers that for the most part, the economy is remaining resilient in uncertain times.
Positive Signs On The Horizon?
While the trade war is a major contributing factor that is holding back the U.S. and global economies from reaching higher year-over-year growth, there are positive signs that resolutions could be reached across borders and oceans.
In January, Congress approved the United States-Mexico-Canada Agreement to replace the decades-old North America Free Trade Agreement. Already approved by Mexico, and with an expected approval from Canada to come, the agreement could go into effect this spring.
The U.S. and China also passed a phase one trade deal on January 15, 2020. Though it won't solve the entire problem, if agreed upon, the deal marks the most significant de-escalation in tensions since the beginning of the trade war.