In late 2019, more than 1,800 shippers participated in our 5th annual State of the North American Supply Chain Survey. The following article examines a portion of the results. Click here to download the full white paper.
Toward the end of last year, we invited shippers from a wide variety of industries to participate in our fifth annual State of the North American Supply Chain Survey. Our goal was to gauge the challenges that shippers faced in 2019 and to gain a better understanding of their outlook heading into the new year. More than 1,800 individuals from across North America participated.
With five years of data for many of the questions answered, we can see a much fuller picture of where the shipping community has come from, where it is and where it might be heading in 2020.
Looking Back At 2019
After analyzing the data, it was clear that 2019 was a year of relative calm for most shippers. While there were no steep downturns or upticks, the U.S. economy maintained a steady pace of growth throughout the year. Hiring and wages also continued to climb over the course of 2019, but our survey shows that these numbers don't necessarily reflect the near-term outlook for all freight markets.
Notably, the truckload sector experienced a challenging year marked by abundant capacity in certain markets and numerous high-profile carrier bankruptcies. By mid-December, nearly 800 trucking companies had shut down – removing nearly 24,000 trucks from the country's capacity pool. Though the closures did not have a dramatic effect on the majority of shippers in 2019, the drop in capacity could lead to challenges in 2020 as new industry regulations and international trade relations are also taken into consideration.
Steady In The Face Of Tariffs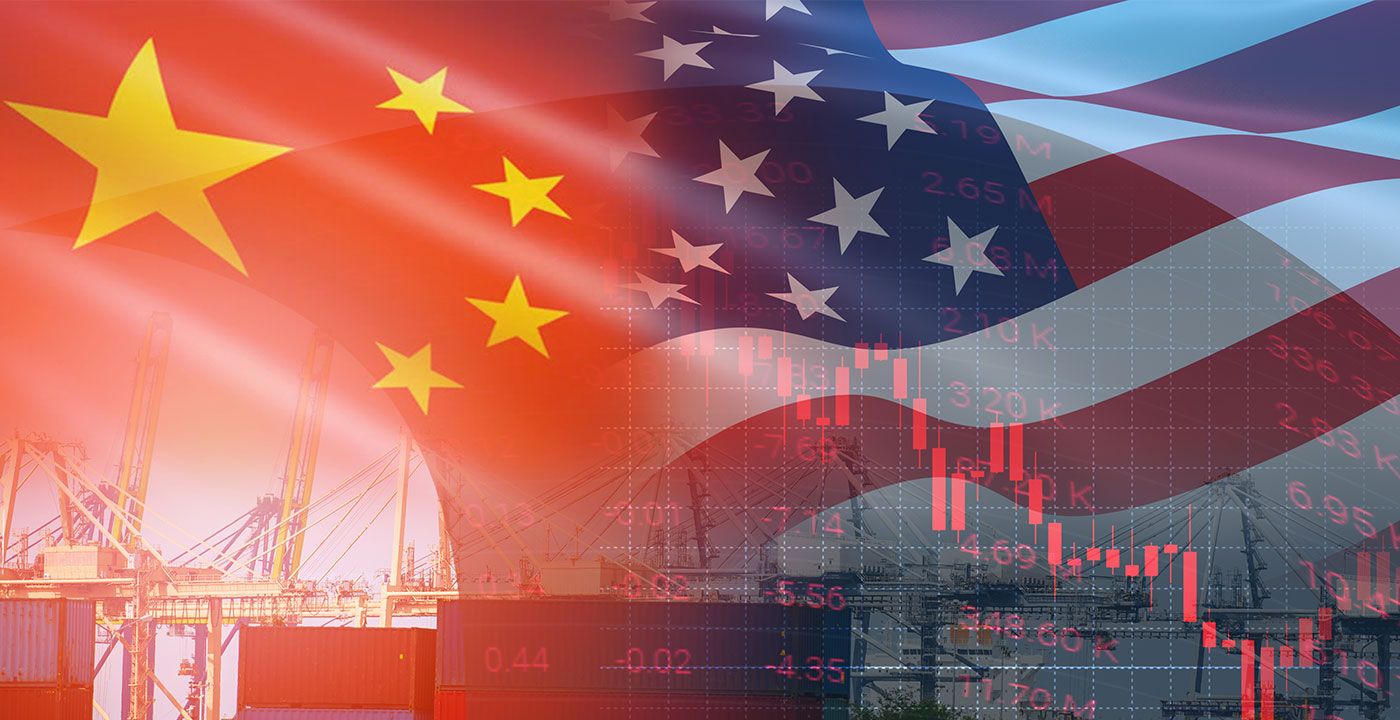 After almost 2 1/2 years of ongoing trade renegotiations and tit-for-tat tariffs, our survey revealed only a modest change in the perception of the trade war's impact on shippers in 2019. While the results revealed very little positive sentiment, shippers remained resilient over the course of a year painted with tariffs on goods flowing between the U.S. and China.
Recent indications of warming relations between the U.S. and several of its key trading partners, however, could potentially pave the way toward a more positive year ahead for international shippers and those downstream.
Planning Ahead
As we delve further into these hot topics on the minds of shippers, we will also discuss other key data points we found that indicate changing sentiments toward final mile, air cargo and rail transportation, among others.
By taking a step back to look at the data, we hope that you will find valuable information that will help you better plan out your shipping and supply chain management strategy for the year ahead.
Shipper Confidence Hits A Snag Going Into 2020
One of the most insightful questions asked in our survey is whether businesses foresee an increase or decrease in shipping volumes for the upcoming year. This year's results yielded the lowest forecast for increased volumes since the survey began five years ago. Of those surveyed, 66.23% expect to ship more in 2020 – a 3.36 percentage point drop from the year before.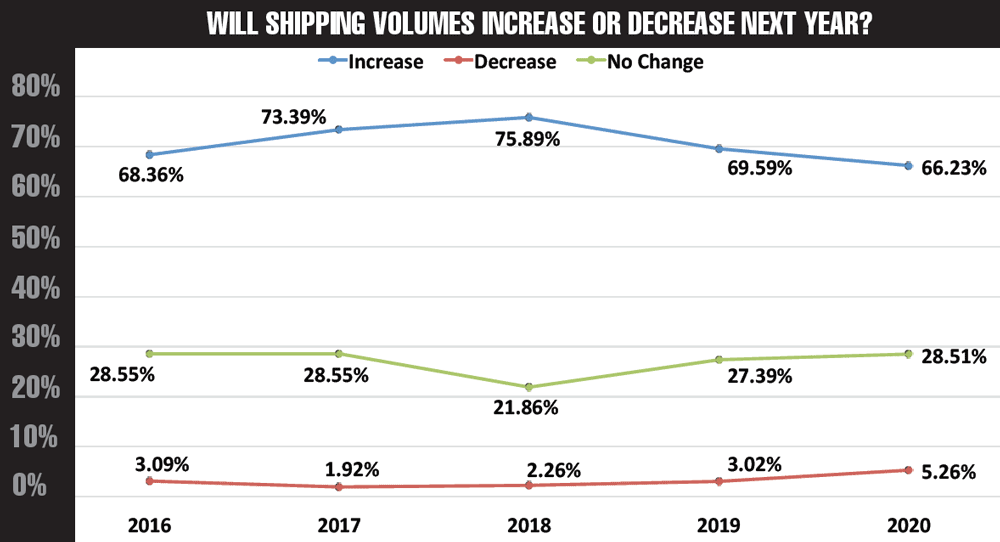 Perhaps a more revealing factor behind the drop can be seen from the results of the same question posed for expectations in 2018. Leading up to the 2018 survey, President Trump and Congress passed the Tax Cuts and Jobs Act of 2017, a tax cut package that would go on to benefit many businesses in 2018. The prospect of the tax cuts boosted anticipation of higher shipping volumes to 75.89% of those surveyed.
With the prospect of having additional capital to spend through 2018, many businesses invested in growth and new products. At the same time, the surge in investment also spurred a tight truckload capacity market that led to higher transportation costs throughout the U.S.
In the two years since the 2018 survey, expectations for increased shipments have declined by nearly 10 percentage points. At the same time, those that expect to see a decrease in volume increased to a five-year high of 5.26%. More than a quarter of those surveyed (28.51%) predict their volumes will remain relatively equal to volumes of 2019.
The waning positive sentiment also correlates with other U.S. economic indicators, such as the real gross domestic product (GDP). While the GDP of the first quarter (Q1) of 2019 (3.1%) outpaced 2018 Q1 (2.5%), the GDP of 2019 Q2 (2.0%) and 2019 Q3 (2.1%) fell short of matching or exceeding the previous periods of 2018 Q2 (3.5%) and 2018 Q3 (2.9%).
No Need To Panic
While many analysts predict the U.S. economy to continue to grow slowly in the years to come, anticipation of a steep downturn is limited. According to economist Kimberly Amadeo with The Balance, unemployment and inflation rates are expected to remain low in the face of slow growth. In the same breath, the U.S. Federal Reserve's fear of detrimental damage to the economy caused by the ongoing trade wars had eased considerably by the end of 2019.