Averitt Express was recently honored by Coca-Cola's Parts and Equipment division as its 2022 Supply Chain LTL Carrier of the Year.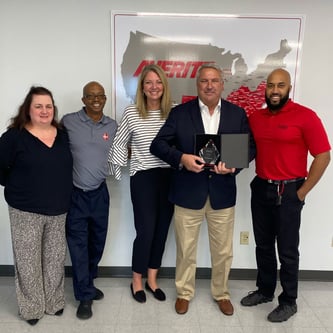 Coca-Cola presented the award during a special gathering at Averitt's Dallas service center.
"We are humbled to receive this honor from a globally recognized brand such as Coca-Cola," said Kent Williams, Averitt's executive vice president of sales and marketing. "Our team strives to deliver quality customer service, and we look forward to continuing our relationship with Coca-Cola by providing reliable, first-class transportation solutions."
Averitt handles Coca-Cola's inbound equipment for its various soda dispensing machines, powering the soft drink maker's supply chain efforts in the Dallas, San Antonio and Louisville areas.
This marks the first time Averitt has earned LTL Carrier of the Year recognition from Coca-Cola.

Pictured above: Averitt Director of Corporate Business Development Brendan Mazur (second from right) is presented Coca-Cola's 2022 Supply Chain LTL Carrier of the Year award by Coca-Cola representatives (from left) Kim Alcorn, Ben Grace, Karen Pirkle and Matt Smith.
---

About Averitt Express
Serving shippers for over 50 years, Averitt is a leading provider of freight transportation and supply chain management solutions with an international reach to 100+ countries. Averitt's LTL, Truckload, Dedicated, Distribution & Fulfillment, and Integrated services provide shippers access to a wide array of services and customized solutions that cover every link in the supply chain. Together, these services and technology offerings provide "The Power of One" to shippers, allowing them access to multiple transportation solutions from a single provider. Averitt's 9,000+ associates are dedicated to delivering the most reliable services within the industry, and to promoting a company culture that is centered around people, communities and giving back. For more information, call 1-800-AVERITT (283-7488) or visit Averitt.com.