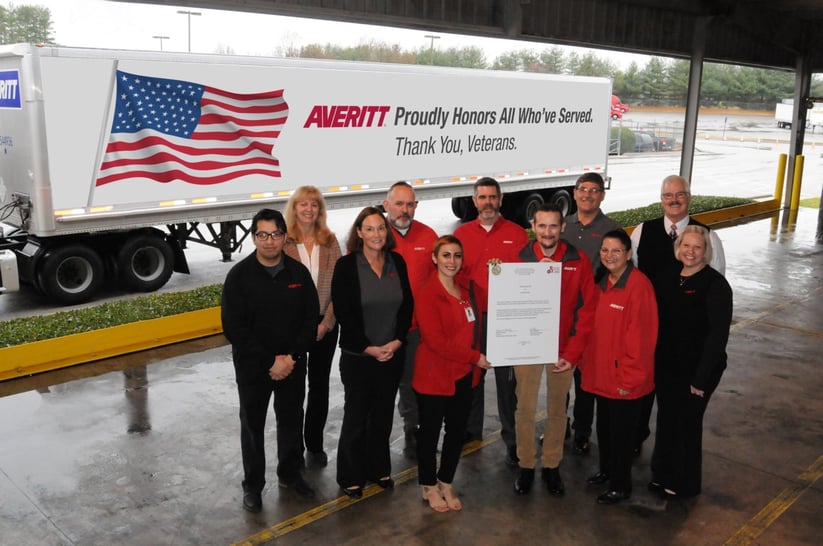 COOKEVILLE, Tenn. – Averitt Express recently built on its strong tradition of support for the military, as it announced that it has partnered with the U.S. Army Reserve to provide career opportunities for veterans and their families.
To celebrate their cooperative efforts, Averitt recently hosted the Reserve's Public Private Partnership Office for a proclamation ceremony.
According to the proclamation, Averitt is a "proud supporter of the U.S. Army Reserve and will assist soldiers and families in overcoming barriers to obtain meaningful employment or education opportunities."
For more than five decades, Averitt has shown a track record of being a career home for former and current military. Approximately 15% of its associates are veterans, including Chairman and Chief Executive Officer Gary Sasser, who served in the Marine Reserve. Additionally, Averitt was recently honored for the third consecutive year in a national survey as a Military Friendly Employer.
"Military veterans bring unique skills and invaluable experience to our team," said Averitt Vice President of Human Resources Elise Leeson. "We're proud to partner with the U.S. Army Reserve, and we look forward to helping even more veterans make Averitt their career home."
About Averitt Express
Serving shippers for over 50 years, Averitt is a leading provider of freight transportation and supply chain management solutions with an international reach to 100+ countries. Averitt's LTL, Truckload, Dedicated, Distribution & Fulfillment, and Integrated services provide shippers access to a wide array of services and customized solutions that cover every link in the supply chain. Together, these services and technology offerings provide "The Power of One" to shippers, allowing them access to multiple transportation solutions from a single provider. Averitt's 9,000+ associates are dedicated to delivering the most reliable services within the industry, and to promoting a company culture that is centered around people, communities and giving back. For more information, call 1-800-AVERITT (283-7488) or visit Averitt.com.
# # #
Caption: Pictured above with the U.S. Army Reserve's proclamation of its career opportunities partnership with Averitt are: (front, from left) Averitt's Rey Francisco, Laura Wettack, Amy Wattenbarger, Jeremiah Madden, Ivy Trabalzi and Andrea Lancaster, along with (back, from left) Director of the U.S. Army Reserve Private Public Partnership Office Alecia Grady, and Averitt's Tim Barnes, Jason Brewer, David Young and Ken Chrisman.