The United States and Canada share the longest international border (at 5,525 miles) and the strongest bilateral trade relationship (with nearly $2 billion exchanged every day) of any two countries in the world. In fact, the U.S. is by far the dominant point of origin for goods imported into Canada, with China a distant second. A key reason for that strong relationship is the relative ease of transporting goods from one country to another via truck, which is supported by more than 120 land ports-of-entry lining the border.
For any U.S. company looking to sell their products to our neighbor to the north, it's important to understand several aspects of the sometimes complex supply chains involved.
The USMCA
The United States-Mexico-Canada Agreement (USMCA), originally signed on November 30, 2018, became fully effective on July 1, 2020. Drafted as a replacement for the North American Free Trade Agreement (NAFTA), the USMCA was designed to create more balanced, reciprocal trade while growing the North American economy.
While the USMCA retains a similar structure to NAFTA (leading to the nickname "NAFTA 2.0"), there have been some changes – most notably regarding rules of origin (ROO) requirements, labor enforcement, and revised de minimis levels (or low-value thresholds). These and other changes were made in an effort to bring the trilateral trade agreement in line with the times. (Remember that NAFTA became law in 1994 – long before the internet changed the face of commerce worldwide.)
At its core, the USMCA seeks to restructure protections and build incentives – making production in North America more profitable and efficient. To that end, it provides a number of streamlining benefits over NAFTA – among them a single-window process, which allows the use of one data set to ship goods across borders of all three countries.
Per the Office of the United States Trade Representative, the USMCA is a "mutually beneficial win for North American workers, farmers, ranchers, and businesses."
Customs Clearance
Whether utilizing less-than-truckload, truckload, or flatbed, shipping from the U.S. to Canada requires a few extra steps compared to shipping domestically within the "lower 48."
All commercial shippers seeking to import goods into Canada must observe customs regulations. This includes the mandatory use of a customs broker. A customs broker is responsible for clearing goods into another country while navigating customs protocols. While many businesses that frequently ship to Canada have existing broker relationships in place, Averitt streamlines the process even further with an expert team of in-house customs brokers.
Both a Bill of Lading (BOL) and Canadian Commercial Invoice (CCI) are also required. The CCI tells customs your shipment details and outlines the responsible parties. Your customs broker will review the BOL and CCI before shipping to ensure all relevant information is accounted for.
In addition to other standard considerations, like a packing list, you'll also want to take advantage of a Certificate of Origin when shipping into Canada. This document is necessary if you want to take advantage of the preferential tariff benefits of USMCA. This certificate is used for the primary purpose of helping the U.S., Canada, and Mexico determine whether goods entering their respective countries qualify for preferential tariff treatment.
While a familiar fixture under NAFTA, the Certificate of Origin has also seen changes under the USMCA. All three countries were required to use a uniform document in the past. Under the USMCA, there is no must-have format. As long as the proper data points are addressed, the requirement is fulfilled. Also, under NAFTA, the importer wasn't allowed to fill out this document. Under the USMCA, the producer, exporter or importer can complete the certificate.
This is certainly not an exhaustive list of Canadian Customs considerations, and other certificates, permits, or licenses may be needed depending on the goods you're shipping. This is where it helps to work with a company that knows the ins and outs of cross-border freight. Averitt's international network provides shippers with full LTL and truckload coverage of Canada's 10 provinces and three territories. So if you have questions, don't hesitate to ask. You can also download a free USMCA Certificate of Origin courtesy of Averitt.
Getting From Point A To Point B
While the U.S. Department of Transportation has no say over what happens in Canada, its own regulatory agencies and ministries dictate how American carriers are allowed to operate. This includes which commercial drivers are allowed access.
American drivers and other foreign nationals working for U.S.-based carriers are allowed into Canada provided they have the proper documentation and don't have a criminal record. Also, firearms are closely regulated in Canada and must be declared when entering the country. Handguns are prohibited – and that includes guns that are properly registered in the U.S. If a driver fails to declare a firearm, it could result in the forfeiture of the weapon and criminal penalties.
This is another case where Averitt's deep international experience comes into play. In addition to having the necessary security and customs certifications needed to move freight smoothly in and out of Canada – including Free and Secure Trade (FAST), Customs Trade Partnership Against Terrorism (C-TPAT), Partners in Prevention (PIP), and Customs Self-Assessment – Averitt eliminates any potential concerns about driver access by utilizing Canadian drivers for our cross-border shipments.
Distribution & Warehousing
The meteoric rise of e-commerce has made rapid distribution and fulfillment more important than ever – a fact that's as true across our northern border as it is domestically.
In this case, location is key. And Averitt's North America distribution network is second to none. Our facilities are strategically positioned to offer increased speed-to-consumers in key markets. We also offer access to a large number of warehouses throughout Canada. This allows shippers to position inventory for quick delivery without the costs of operating an independent warehouse.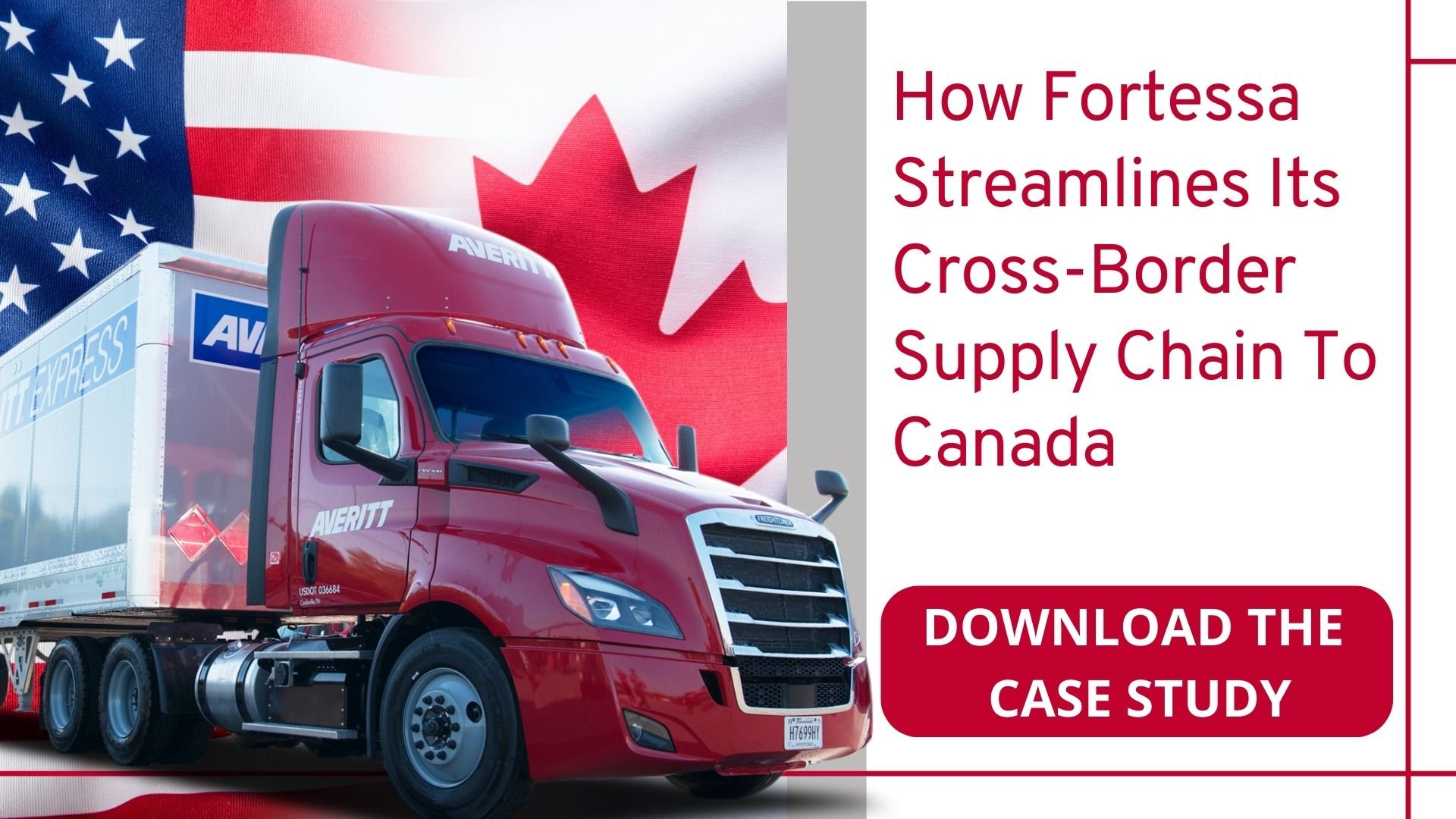 Go With Experience
A smooth border crossing depends on a number of factors that can become confusing for those new to the process. Above all, accurate information is crucial when shipping to Canada. Averitt has the experience, technology, and know-how to guide your freight from pickup, through customs, and on to delivery.