Home to nearly 3 million people, Chicago is one of the busiest cities in the United States. And with record-level congestion on the streets and limited freight capacity, it's also one of the most difficult markets to manage a complex logistics project.
For LynnCo Supply Chain Solutions, Inc., a supply chain solutions provider based out of Tulsa, OK, finding the right asset-based partners is the key to success. When LynnCo was tasked with managing the supply chain for a high rise development in the city's bustling downtown, they knew the project's logistics would be particularly challenging.
The Challenge
One of the biggest challenges is the small delivery window that drivers have to make to a construction site, which often requires streets to be closed.
"You can't be late and you can't be too early," said LynnCo's vice president of supply chain solutions Jae Whang. "If you miss that time slot, it could take you another week or two to get back there."
At first, the project relied on long haul carriers to deliver glass and window installations to the construction site. Faced with challenges that could set the drivers back, including ELD regulations and unfamiliarity of the local streets, the project's on time performance took a hit.
The Solution
To overcome the challenges, LynnCo reached out to Averitt to help devise a localized strategy. Forging a new partnership, a plan was built out utilizing Averitt's Chicago service center as a pool distribution point.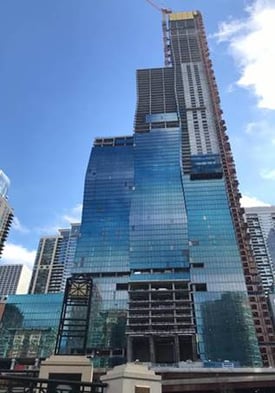 Outside carriers would handle the long haul of materials from manufacturers and drop the loaded trailers at Averitt's facility. Using the service center's parking lot for temporary storage, local Averitt drivers would make the final delivery to the construction site.

The benefit of using the local drivers was that they knew the city inside and out. Additionally, they could make the final delivery within a manageable timeframe that wouldn't be as easy for a long haul driver.

"Having drivers on the ground readily available that are familiar with the area is critical for ongoing projects like this," said Averitt's Chicago service center director Clem Hollingsworth. "They're the ones that are on the frontline, building relationships with the local foremen and managers. They get to know each other and work like a team together with the same goals."
The Results
Since the pool distribution strategy was initiated, Averitt has delivered more than 2,500 loads to the construction sites. On time performance has been 100 percent, and the costs associated with turning away trucks that missed delivery windows have dropped by nearly 60 percent.

While the customized distribution strategy brings more efficiency to the project, it's the local men and women behind the wheel that keep it moving forward.

"I always say people do business with people — not companies," said Whang. "What used to be a norm is now an exception."