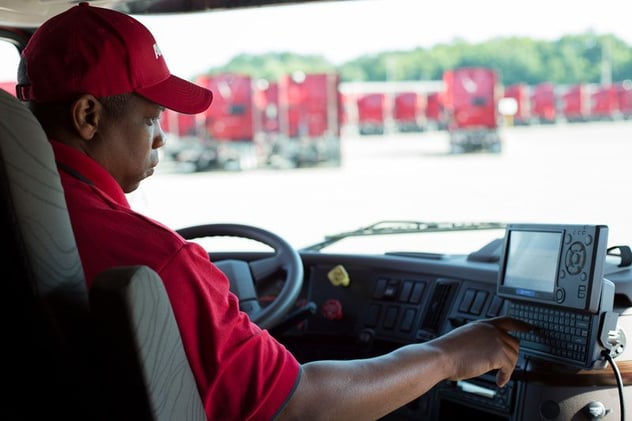 ELDS Are Coming To A Truck Near You
As we approach the end of 2017, the transportation industry and shippers alike are focused on the impending arrival of the electronic logging device (ELD) mandate. Set to take effect on Dec. 18, the ELD mandate will mark one of the biggest regulatory changes to impact carriers and drivers since the passing of the hours of service (HOS) regulations in 2011.
With all of the talk about the ELD mandate over the past few years, there's still an air of uncertainty on what the new law means for carriers and shippers.
Reasoning Behind The ELD Mandate
One of the primary reasons that the FMSCA devised the ELD mandate is to increase its ability to enforce compliance with (HOS) regulations. The HOS regulations are a set of rules that govern how long a truck driver can be on the road. They help protect drivers from being on the road for extended periods of time that can cause fatigue and even lead to accidents.
Aside from the regulatory and safety aspects of the mandate, there are business-oriented benefits to adopting ELDs as a standard within the transportation industry. ELDs are more than glorified time clocks. In fact, many models come outfitted with a variety of technologies that can help carriers operate more efficiently.
Just a few of the potential benefits include:
Improved ability to monitor and track trucks and shipments both at the carrier and customer level
Better route planning capabilities that can help cut fuel consumption and transit times, which trickles savings down to carriers and customers
Increased safe driving performance lowers industry costs associated with regulatory violations and accidents while saving lives at the same time
Phase-In Period To Ease Transition
On Aug. 28, the Commercial Vehicle Safety Alliance announced that it would not immediately begin placing vehicles out of service when the mandate goes into effect on Dec. 18. The organization, which provides guidance and education to enforcement, industry and policy makers, stated that drivers and carriers will be given a grace period until April 1, 2018 to comply with the mandate.
During the phase-in period, inspectors may choose to issue citations to carriers that operate vehicles without ELDs. This effort will provide motor carriers with a little extra time to outfit tractors with the devices and to train drivers to properly use them.
What Shippers Can Expect And How To Plan
Not only will the ELD mandate impact carriers and drivers, shippers may also feel the effects. It will take time for carriers that are just beginning to adopt ELDs to smooth out their operations. Drivers and operational managers will need to be trained on how to use the devices and how to implement them into the various shipping technology systems they already have in place. For many carriers, the transition will not be as simple as turning a switch on.

#ShipperProTip:
Ensure that your carriers are already in compliance or have a plan to be in full compliance by April 1.
Shippers need to begin asking questions of their carriers to make sure that their own businesses will not be disrupted by the possibility that a truck is placed out of service. When the full mandate goes into effect, capacity could be pinched if carriers fail to deploy ELDs. Start asking your transportation providers what their plans are and how far along they are in putting devices in all of their trucks.
In order to ensure that the transition goes as smooth as possible, Averitt, like many other carriers, has been working diligently to install ELDs and to train its associates on their proper use.
---
Got Questions?
What are your thoughts or concerns about the ELD mandate? Do you have any questions we can help answer? Let us know in the comment section below.