For a logistics or delivery company to claim that they offer "unmatched care" when it comes to handling shipments is nothing new. There is, however, a growing trend you've undoubtedly heard of that takes this concept even further – white glove service.
Unfortunately, there's a lot of misunderstanding about exactly what that entails. So in this article we'll attempt to explain just what it means, and where it can be put to good use.
What White Glove Services Actually Are
Like many things that began with a more literal interpretation, the idea of "white glove" service started as exactly that – movers or shippers actually wearing white gloves to protect the product. In its most common usage, the term is defined as "marked by special care or attention."
The origins are often traced to the gloves worn by the classic English butler – connecting the idea to the level of personal, deferential attention a butler would provide. Where confusion sometimes sets in is when the term "white glove" is used interchangeably with "final mile." And while the two have several characteristics in common, they're actually different levels of service.
The explosive growth of final mile logistics has been brought about by our current consumer economy. Consumers not only want to know when a product is packaged, labeled, and shipped…in many cases they also want it in 24 hours if not sooner. And according to the Logistics Bureau, consumers are more apt to make repeat purchases when the existing purchase and expectations during last mile delivery are met, if not exceeded.
"White glove" takes the experience a step further – going beyond what are now becoming ever-higher "standard" expectations for delivery. It's all about providing customers with peace of mind throughout the entire process – before, during, and after the delivery is completed. This could include anything from unpacking items and removing packing materials, to overnight storage, to unique packaging for fragile or over-dimension items, to transporting the order up or down stairs, to installing the product upon delivery.
Why White Glove Service Has Become So Prominent
A "one-size-fits-all" approach to final mile delivery simply doesn't work in this new consumer-driven era. So adding white glove services as a value-added service within their last mile logistics management lets shippers provide the information and accountability consumers demand.
Adding these services does more than add an extra layer of distinction to a shipper's delivery offering. They actually serve to push the logistics industry forward.
The numbers tell the story. According to Brian Straight of FreightWaves, the global e-commerce market for furniture and appliances alone that require white glove service is valued at approximately $199 billion. That's roughly 17 percent of the existing e-commerce market.
What's more…
The Challenge of Setting Realistic Expectations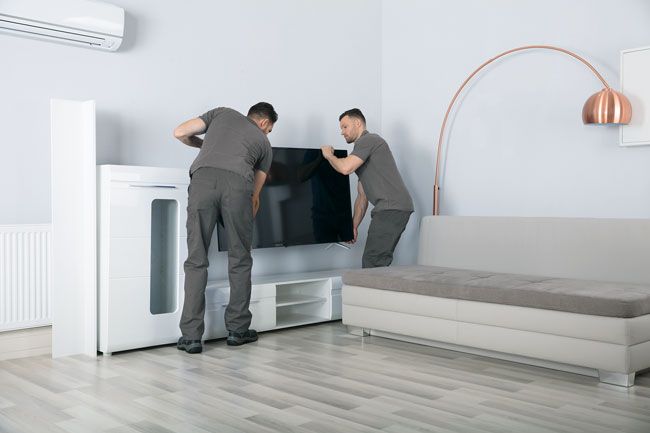 One of the most common problems that comes up in the process of building white glove offerings into final mile logistics is the setting of unrealistic expectations. It's not just about the services that drivers provide, it's also about clear communication through every step of the process – all the way from shippers, to drivers, to consumers.
Here are a few steps that can help both companies and shippers when deciding how best to implement white glove service.
Provide Ample Delivery Location Details: The more information you can provide, the better. For instance…is it residential or commercial? Are there stairs that need to be navigated? If it's not on the ground floor, is there a freight elevator? Is there an accessible loading dock? If not, is there available parking with a clear unloading area? (Whether that's curbside, in a driveway, or a parking lot.)
Provide Customer Contact Details: No matter how well planned a delivery may be, there's always the risk of an unexpected delay or snag. Ensure that the service provider has all the contact information necessary (phone, email, address) to alert the receiver in case there's a change in the delivery time or other details.
Explain Exactly What Is Needed: This is perhaps the most important step to ensure there are no misunderstandings. Highlighting any requirements such as inside delivery, upstairs delivery, setup or installation, debris removal, the necessity of a liftgate, etc., will help avoid a situation where the carrier must attach additional charges after the fact for services that weren't anticipated upfront.
When White Glove Service Might Not Be The Right Choice
There's definitely a balancing act at play when it comes to the decision to offer white glove service, because with additional services come additional costs. Before you go too far down the path, you'll want to know that you're getting your money's worth.
Some shippers may look at only the transactional delivery price when considering their supply chain services. However, this approach can result in damaged shipments, irate customers and costly returns.
It's important to remember that other options are available – as discovered by one particular manufacturer of computer equipment who went with a standard LTL carrier at each end for packing and unpacking. The difference from using a true white glove provider saved the company over $500,000, and delivered much of the same benefit to the customer.
What's Right For You
Choosing the right services – and the right team – that a customer will interact with in those last moments of a delivery is a big decision. Whatever your particular white glove service needs may be, it's important to focus on the needs of your customers first and foremost.
After all, in the age of internet retailing, the "customer experience factor" is here to stay.
Are you looking to improve your final mile and white glove delivery experience for your customers? Watch the video below to learn what Averitt can do for you!