Since exploding on the scene in 2012, Florida Georgia Line has amassed one of the largest followings in country music. And those passionate fans had the chance to see them up close during their 2019 "Can't Say I Ain't Country" tour.
Playing nearly 40 shows everywhere from Maine to California, this tour has been in constant motion – thanks in large part to Averitt's On Tour Logistics.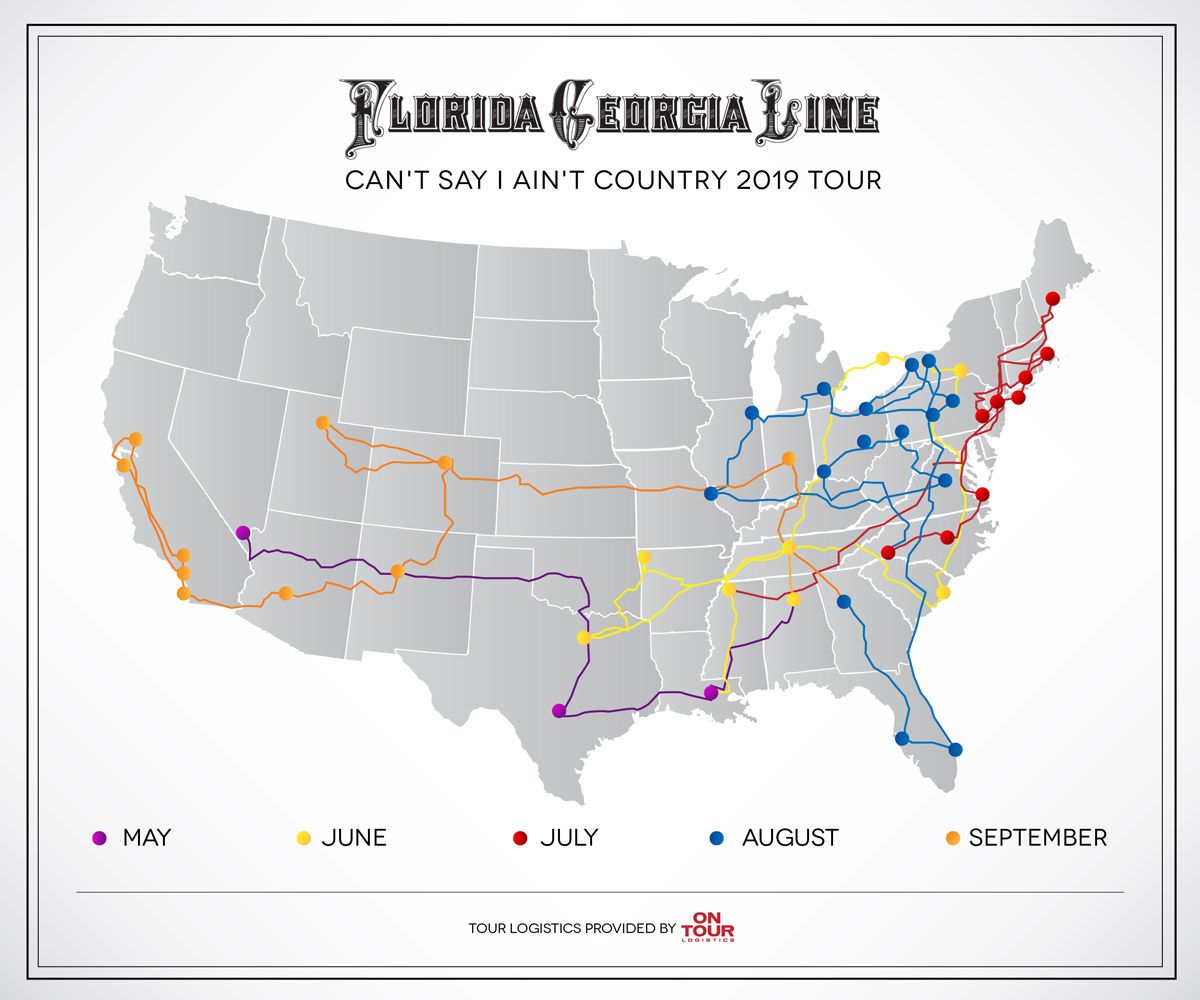 The relationship between FGL and Averitt OTL began thanks to word of mouth – a former OTL customer recommended us to the band's production manager. They needed an experienced partner with the flexibility to meet tight and often challenging schedules. Which made Averitt OTL the perfect match.
At first, we helped them deliver their unique sound and high energy performances to various festivals throughout the Southeast. Thanks to our state of the art equipment and professional drivers, that process proved so successful we were invited to join their nationwide tour to promote the release of their fourth studio album, "Can't Say I Ain't Country."
Averitt OTL handled all video, sound, and lighting duties for the tour, which played sold-out arenas and amphitheaters night after night. A total of 10 trucks were required, with one being entirely devoted to merchandise alone.
The trucks would roll in early the day of the show – with the unloading of all 10 trucks typically taking roughly two hours. (The time varied slightly from show to show, depending on the number of docks available.) From there, another four to six hours were needed to fully set up, test, and make any adjustments.




Immediately following the show, tear-down would begin – with the trucks typically back on the road (and headed to the next sold-out performance) in just two and a half hours.
FGL is a group that fans have seen grow before their very eyes – from the "trucks and tailgates" of their early years to a catalog of music that connects in a meaningful way with their audience. As a result, their concert crowds are passionate about any chance to hear them perform.
That's a responsibility we didn't take lightly.
Because when it comes to logistics, you "Can't Say We Ain't Committed."
Averitt's On Tour Logistics specializes in delivering customized solutions for the production and entertainment industries. With our decades of experience and proven reputation for safety, we've become a trusted partner for many of the top names in entertainment. Whether it's managing the logistical needs for a recording artist's worldwide stadium tour, or moving sensitive lighting rigs for a local event, Averitt OTL will ensure that your event comes off without a hitch.