The 2014/2015 West Coast port labor disruptions pushed importers and transportation/supply chain providers to work hard on fixing what had become a broken model, says Charlie McGee, Averitt's Vice President, International Solutions.
He spoke to JOC.com's Alessandra Barrett at the 2015 JOC Inland Distribution Conference about risk tolerance and expectations for 2016.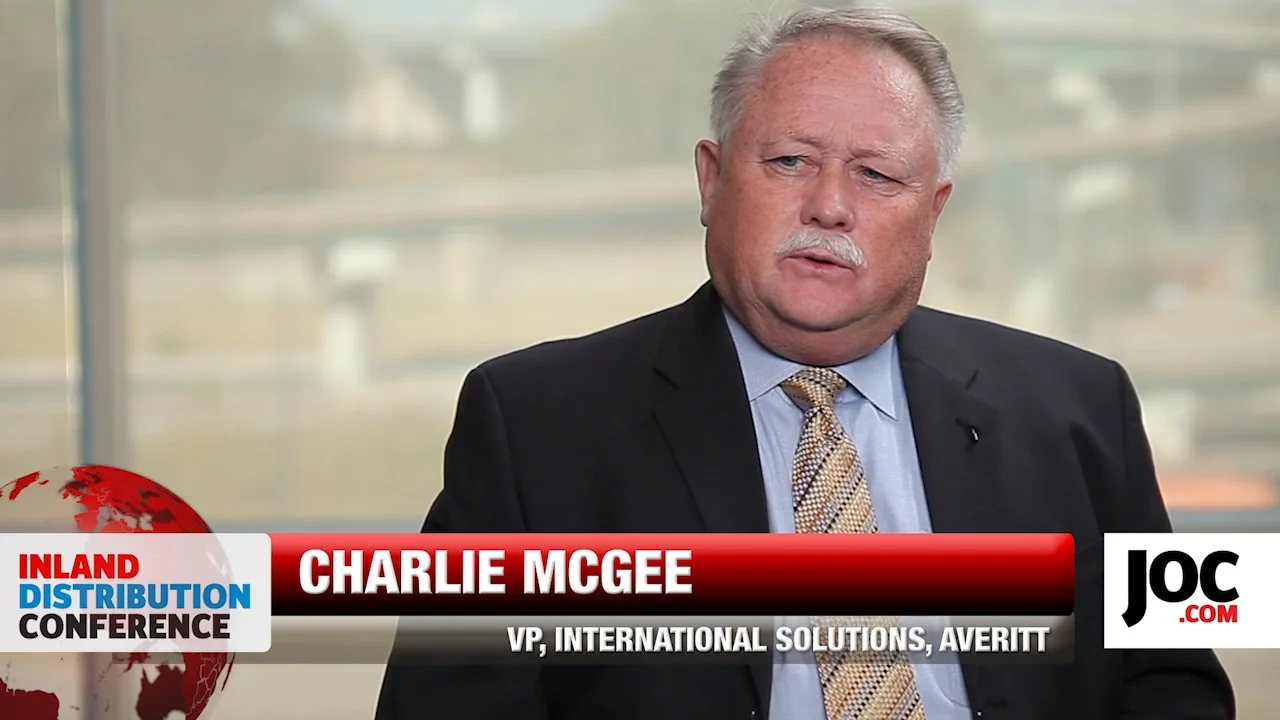 4:57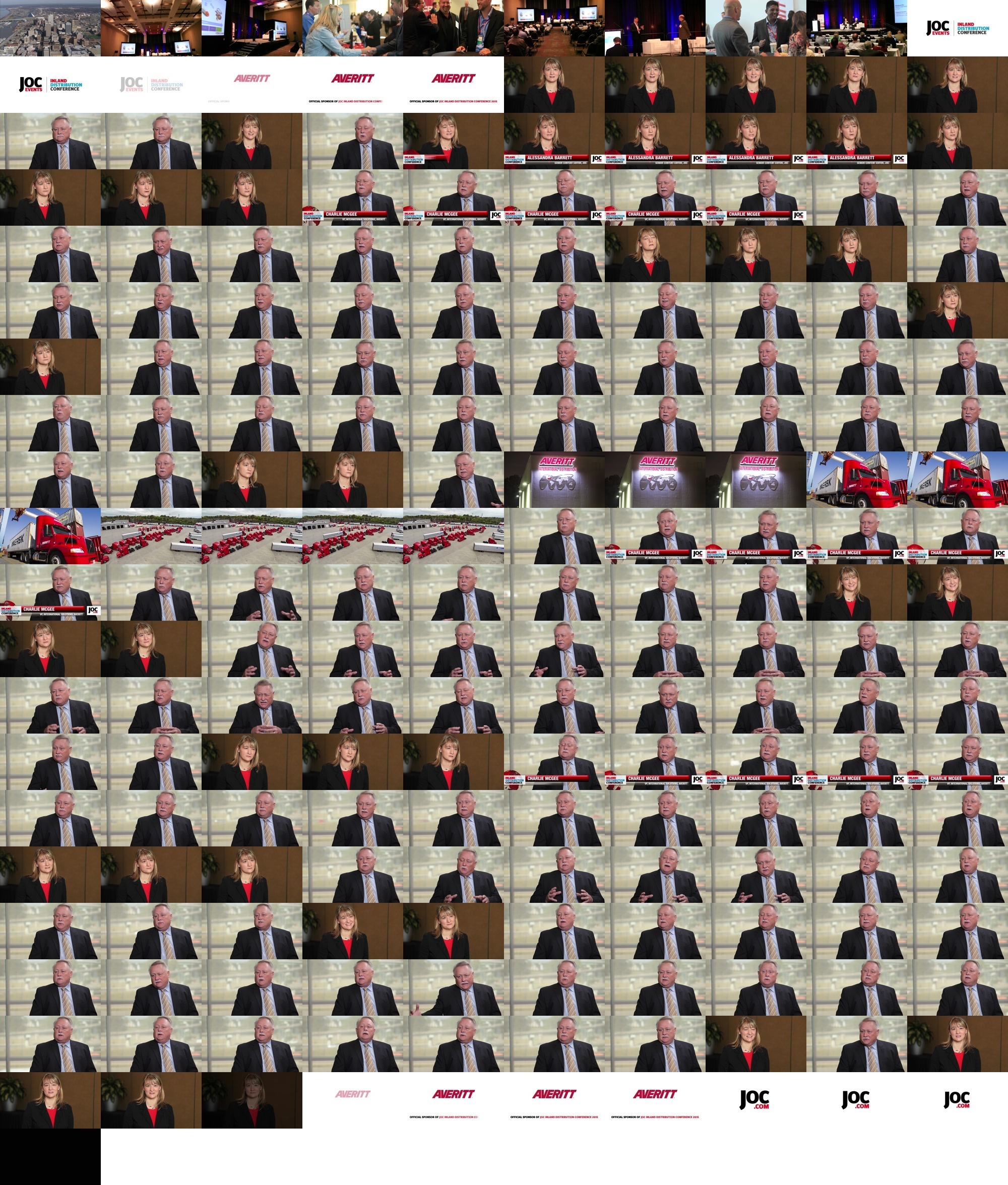 JOC: I'm Alessandra Barrett, Senior Content Editor for JOC, and I'm at our Inland Distribution Conference in Memphis. I'm joined by Charlie McGee, Vice President of International Solutions for Averitt.
Thanks for joining me today, Charlie.
CM: Oh you're welcome. My pleasure.
JOC: We're still seeing the effects of the West Coast labor dispute that resolved earlier this year.
What adjustments are you seeing importers make to their supply chain to prevent it from being disrupted by weather or other labor issues such as that?
CM: Well, it varies based on the risk tolerance of each individual company you're talking about. But the main phenomenon that took place (in 2015) was that the senior management of most of these companies—who are engaged in the import business—they went to their transportation and supply chain people and said:
"Our model is broken. We have to fix it."
And so the industry has been hard at work, and the transportation professionals in the industry have been working to try to meet the demands of their corporate management and quote unquote fix their transportation model. That means a lot of different things to a lot of different people, but there's one thing for certain that it does incorporate...The ILWU/PMA (International Longshore and Warehouse Union and Pacific Maritime Association) situation on the West Coast put a real scare in a lot of people this year about: "Could that happen again?" and "The bigger we get, will the impact be even worse in the future?"
So what almost all of them "to a T" to some varying degree have done is they've diverted a portion of their cargo, where feasible, to East and Gulf Coast ports to try to alleviate the dependence on the West Coast gateway coming primarily from the Asian market, which is where most of our consumer goods come from.
And Averitt is sitting in the middle of all those activities on the East Coast—with our facilities and our trucks—able to grab the cargo wherever it happens to land. To coach our customers about what is available to them in the marketplace is not about looking at any one specific solution, but to actually look at the entire network and ask:
"What are you trying to accomplish?"
"Here's what we see as the best solution, and it may involve South Carolina ports this week. It may involve Virginia ports next week. It may involve Georgia ports the week after that."
So, it's kind of a mixed bag of solutions that we provide, but with our facility network we have the ability to service any aspect of the business after it moves inland. If it doesn't move inland—if it must move from the port—we also are able to do that. Those are the types of things that we're seeing the industry look at as solutions to try to take all their eggs out of that one basket on the West Coast and put them into a more diversified port infrastructure in the United States. And of course, Canada is part of that equation as well.

JOC: Briefly, what are your expectations for the year ahead?
CM: Based on what we're seeing right now, especially tied with the economic conditions pretty much around the world—and we're in a slow growth mode—we can't deny that is the case in the United States right now by pretty much all measures. But we're not in a declining mode.
Some economies are in a declination, and fortunately we're not. We're optimistic about the growth possibilities of business here in the United States for sure. We just feel that better solutions have to come about in order to do business in this new environment that we're dealing with—especially in the steamship side of it when the Panama Canal opens up in 2016. Assuming that it's still on schedule, which I hear that it is. That is going to move the line of embarkation at least another 100 or maybe 200 miles further inland from the East Coast to make those ports even more competitive than they currently are.
That's going to change the whole dynamic again of what's available to move via the East Coast and what makes sense to move via the East Coast, and still provide the economies of scale that the customers are looking for to keep their overall supply chain costs as low as they can while still meeting the critical dates of their customers' demands.
---

Charlie McGee is Vice President of International Solutions for Averitt Express. A long-time industry veteran, Mcgee is also head of Averitt's PortSide® Services.
Averitt Express PortSide® provides shippers with all the services they need to move import cargo from port-to-door and export cargo from door-to-port. To learn more and to watch a two-minute video about PortSide®, visit AverittExpress.com/PortSide.