Jumping headfirst into any new industry can be overwhelming, especially in the transportation industry. Understanding the common terminologies and industry jargon used in conversations can feel particularly daunting at first. To help you jump right into conversation with your peers, we've put together a list of nine key industry terms that you should become acquainted with.
1. Less-than-Truckload (LTL)
A method of shipping freight from multiple shippers in a single trailer.
The U.S. LTL market consists of about 200 carriers – a stark difference when compared to over hundreds of thousands of carriers that provide long-haul truckload services – that provide a variety of delivery coverage ranging from regional to nationwide. The reason there are fewer LTL carriers than truckload is simply because it requires more infrastructure (service centers / terminals) and operational planning to manage multiple shipments versus one shipment. Whereas a truckload shipment generally moves from an origin point direct to a destination point, an LTL shipment will often move between different service centers and on multiple trucks before reaching a final destination.
Averitt is an LTL leader that offers many different solutions ranging from expedited to cross-border service. It can be hard for carriers to make guarantees for accuracy and timeliness, but Averitt's 98% On-Time LTL percentage and 99.9% Billing Accuracy speak for themselves.
2. Truckload
A method of shipping where the entire trailer is freight from a single shipper.
The truckload market is massive, due in part to what was mentioned earlier – it takes only one truck to be part of the market. A majority of truckload carriers operate fewer than 10 trucks.
As one of the top truckload carriers in the industry with over 1,000 TL trucks, Averitt has several different capabilities when it comes to truckload. From dry van services to our North America coverage and our On Tour Logistics team that handles event logistics, Averitt has everything you need for truckload.
3. Bill of Lading (BOL)
A legal document (print or digital) that proves a contract detailing shipment terms between a shipper and carrier.
This document is a receipt for both the shipper and carrier. A typical BOL will have a place to list the shipper and consignee, shipment date, and freight characteristics like the weight, classification, and quantity. You can find different BOL examples online, but here is an example of Averitt's: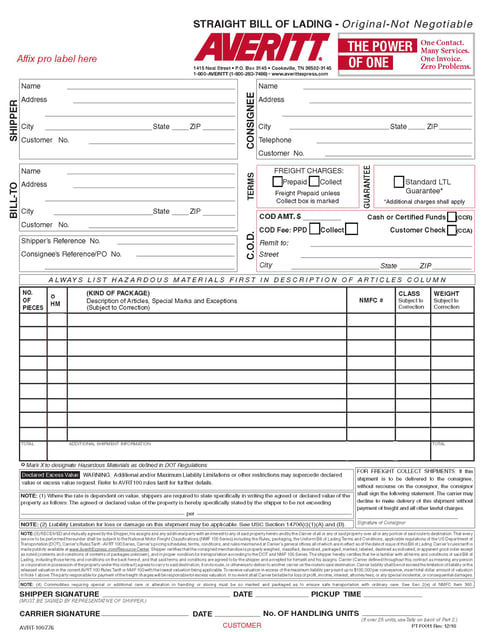 4. Third Party Logistics (3PL)
logistics and supply chain management operations outsourced by a company to a service provider.
Third-party logistics companies that specialize in freight management provide different fulfillment services and have their own network of carriers they trust to send the freight of their shippers through. A 3PL may provide services like warehousing, international forwarding, and dedicated fleet management.
Many 3PL's use Averitt's LTL and truckload services to support the transportation needs of their customers. In addition, Averitt also provides services that are traditionally considered a 3PL solution, including warehousing, customs clearance, and international forwarding.
5. Drayage
The process of transporting cargo in a shipping container — typically between a port or railhead and the shipper's location.
Most imports and exports require drayage service providers to transport them to or from an inland port, seaport, or railhead. Drayage is often associated with seaports, but it is a vital service that supports the movement of international cargo through inland markets such as Chicago, IL and Memphis, TN.

Averitt Integrated can help you with any drayage needs you may have in the U.S. and beyond. With several locations near major ports, our PortSide Services provide quick access to drayage, transloading and port logistics solutions. These services can help you avoid demurrage fees, which are charges applied to shipments that exceed their allotted time at a port or yard.
6. Intermodal
The process of transporting cargo in a container or trailer using multiple modes of transportation,
such as rail, truck, ship, and air.
Not to be confused with shipping cargo by rail, which is a subset of intermodal transportation that only involves moving goods by train, intermodal uses many different modes to get cargo from point A to point B. Moving freight from a container ship to a truck or on a flat car by rail, intermodal transportation is a strategy often used by those that are needing to ship freight long distances. There are several different benefits to going intermodal, as it provides flexibility and can help cut down costs and road congestion.
Averitt's Intermodal services include many different options, including our rail services. We have a large intermodal hub network and trusted partners that can help move your freight where you need it to go.
7. Transloading
The process of moving freight from one mode of transportation to another to get it to its destination — typically between containers and trailers.
The transloading and processing service generally occurs at a facility that is equipped to handle cargo containers and traditional LTL and truckload trailers. At a transloading point, freight can be transferred between cargo containers and truck trailers for delivery or even sorted and segregated for regional and national distribution.
Using Averitt's transloading services can help you avoid costly detention – fees on containers for how long they are out of port – and other expenses. Transloading containers can be pricey due to the specialized trailers needed to haul them, but our close-to-port locations, chassis and network of trusted partners can get the job done without the added cost.
8. Shipper and Consignee
a business that has freight they need shipped (shipper) or are receiving (consignee).
Any business that needs to move products is a shipper, and as you can imagine, that means there is literally tons of freight moved every day. These shippers need carriers to move that product for them, thus creating a beautiful partnership. Consignees, on the other hand, represent the party receiving the freight. They are typically in charge of handling the documentation or payment for receiving the goods. Shippers need carriers to make sure the freight gets delivered to the consignee on time and intact.
With over 50 years of partnering with great shippers, our long-standing experience provides stable and efficient transportation solutions for all of our partners.
9. Carrier
A business that transports freight for a shipper, typically via truck.
With truck traffic averaging hundreds of millions of miles every day, it's important to find the right carrier that can provide reliable capacity and dependable service. In the transportation industry, it's imperative to find a carrier with a low claims ratio, high on-time percentage, and a commitment to quality.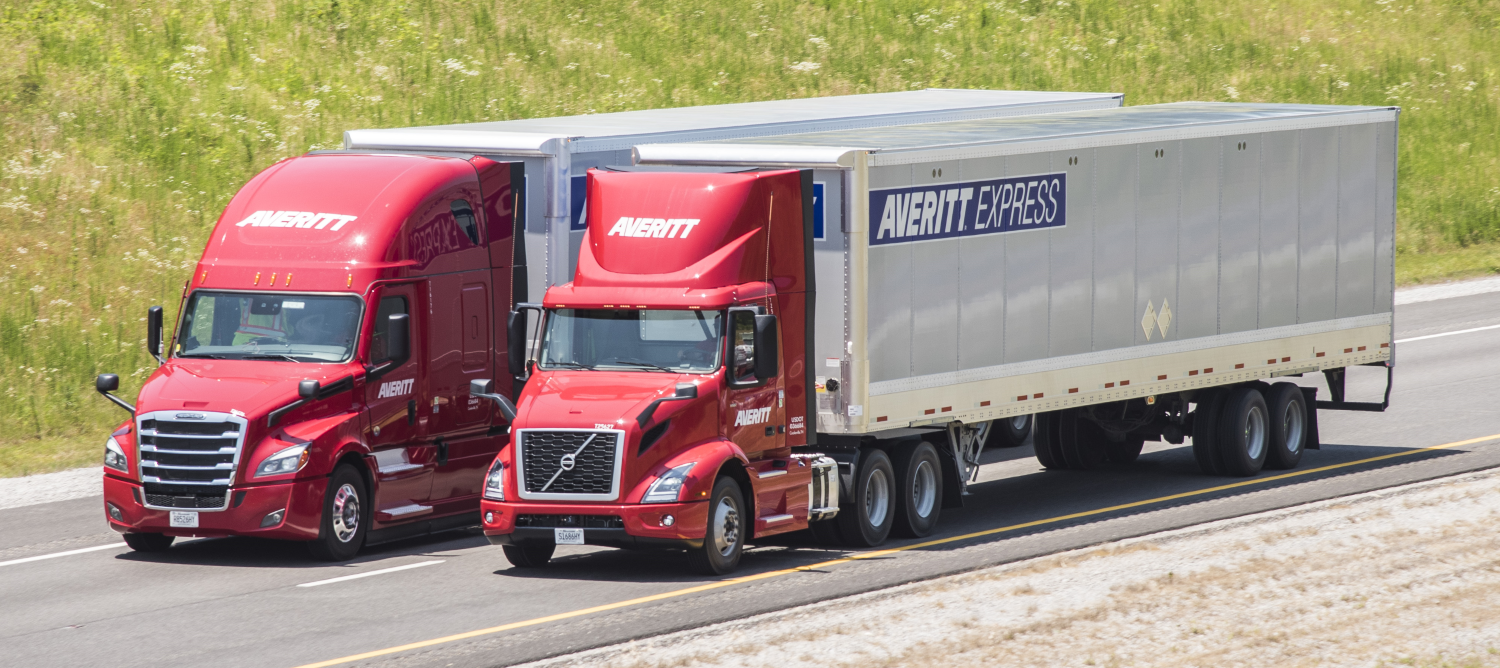 Our dedication to our customers helps us stand out from other carriers. We strive for continuity and continue to look for innovative and creative ways to better serve our shippers.