Since opening their first store in Nashville in 2004, discount retailer Bargain Hunt is now 90 stores strong and growing throughout the Southeastern United States. With an eye on substantial future expansion, the retailer needed a transportation partner that could both accelerate and streamline the process.
"From a supply chain perspective, we needed to really transform what we were doing," says Steve Silverman, Bargain Hunt's Supply Chain Senior Vice President.
The challenge offered the perfect opportunity for Averitt to showcase the qualities that have made the company an award-winning industry leader in supply chain solutions.


The Hunt For Efficiencies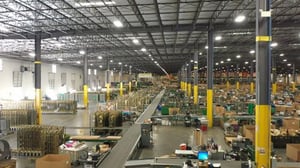 One of the main priorities for the Bargain Hunt team was to identify a more efficient retail distribution strategy. For years, the company had relied on a pure dedicated fleet strategy that supplied its dozens of locations across multiple states from its central distribution center in Antioch, TN.
While this strategy accomplished the company's basic need to move product to shelf, the retailer knew there was room to make drastic improvements.

The Hybrid Fleet Strategy
Together with Averitt, the companies devised an unique approach that would blend Averitt's dedicated fleet drivers and local less-than-truckload city drivers across multiple states to keep the retailer's freight moving constantly.
By allowing supply chain drivers to share tractors with LTL (daytime city) drivers, Averitt was able to double the productivity of each tractor – getting 22 hours of operation per day versus the 11 that a single driver and tractor could achieve.
The resulting operational cost savings for Bargain Hunt were dramatic:
Dedicated tractors were cut from

26 to roughly 16

.
The number of trailers utilized were reduced from

270 to fewer than 110

.
The overall number of miles driven were

cut by 20 percent

.
Maximizing The Return Value
Leveraging Averitt's distribution network of service centers provided further advantages, as returnable containers could be consolidated, then loaded into a single trailer. Rather than having returnable crates spread across several different trucks, this single trailer consolidation program created empties for vendor and third party back-hauls.


Improving The Local Delivery Experience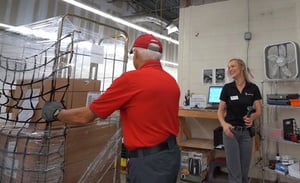 When it comes to the delivery process, Averitt takes care of the unloading so that the retailer's associates can focus on other important areas of the stores' daily operations.
"Before Averitt, we were spending a lot of time unloading the trucks. We were utilizing three or four of my sales associates to unload a truck when we could've been doing stuff out on our sales floor," says Edie Dies, a Store Leader in Lebanon, Tennessee.


The Critical Role Of Technology
Technology has also played a critical role in the success of the partnership. The flow of real-time transportation data between the companies ensures that each party is always on the same page.
"The integration of technology between Averitt and Bargain Hunt gives us visibility and clarity," says Austin Jones, Director of Transportation for Bargain Hunt.
By enabling communication from system to system, the integrated transportation management system allows up-to-the-minute tracking updates while allowing for any changes that may arise. This allows Bargain Hunt to create precise inbound schedules with the confidence that those schedules will be met.
Scalability & Flexibility
"The one thing that drove this from the beginning was to create a model that's scalable – something that we could scale up or down on demand," says Averitt Regional Vice President Mike Monin.
With the target of opening dozens of additional stores over the next few years, Bargain Hunt needed a fleet that could accommodate that growth economically – an option that simply didn't exist under their previous system.
"It's all about trying to provide the solution that's best for the customer," Monin says. "We just listened to Bargain Hunt and what they envisioned, and then we figured out what pieces from that we could use to build that model."
The result has been dramatic improvements in efficiency, cost savings, and visibility. All with a seamless transition.
"We were able to convert our whole dedicated fleet on schedule, on time, without any customer complaints from our stores. Which is a real testament to the drivers and the Averitt commitment to our business," says Silverman.


The Results: