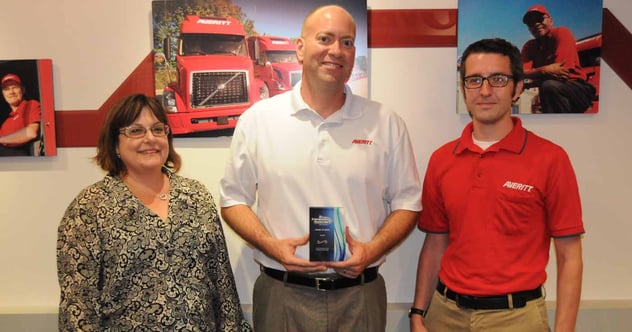 COOKEVILLE, Tenn. (June 21, 2016) — Averitt Express was recently honored by the Transportation Marketing & Sales Association, as it was the recipient of a Compass Award for its "The Power of One" marketing campaign.
The Compass Awards program is in its 64th year, and recognizes marketing and sales best practices by transportation and logistics companies that demonstrate effective execution and measurable business results.
Averitt's "The Power of One" campaign is a multifaceted effort that includes a combination of digital and print advertising, a video and more. The campaign seeks to show customers the wide range of services Averitt can provide under one roof.
"'The Power of One' campaign has been a great success, and we are grateful for the recognition we have received from the TMSA," said Phil Pierce, Averitt's executive vice president of sales and marketing. "'The campaign has opened the door to new opportunities through customers who may have not otherwise known the value we can provide them."
Pierce added, "'The Power of One' has also proven to be an extremely versatile message, as our team has embraced it to stand for the ways each associate helps us provide outstanding service and fulfill the promises we've made to our customers."
"The Compass Awards Program provides transportation and logistics companies with the opportunity to showcase their best work in marketing and communication strategies and sales performance, and to benchmark their work against others in the industry," said Brian Everett, CEO of TMSA. "In addition, recipients of this prestigious award receive recognition from peers while they benchmark work against others in the industry."
TMSA is the only professional association of its kind serving the transportation and logistics industry. It delivers value to thousands of members through knowledge, connections, recognition and solutions. For more information, log on to www.TMSAtoday.org.