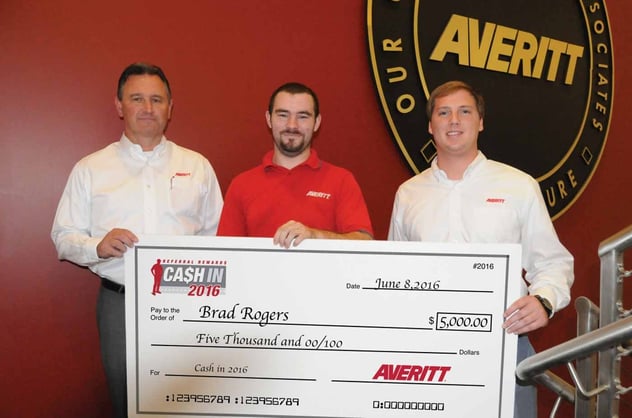 COOKEVILLE, Tenn. (June 14, 2016) — In its effort to recruit and retain highly skilled professional drivers, Averitt Express recently gave away a $5,000 cash prize to an associate as part of its Referral Rewards Cash In 2016 program.
Shreveport, La. driver Brad Rogers was the winner of the $5,000 reward, part of a program that includes three rounds of vacation packages and cash prize drawings before culminating in a year-end prize of $10,000 for two associates.
"It's amazing to win this prize," Rogers said. "Winning $5,000 put a nice spring in my step. I already think very highly of Averitt, and the fact that we have a program like this, it's great."
Averitt is awarding the Referral Rewards Cash In 2016 incentives in addition to its regular Referral Rewards program, which pays associates up to $1,500 for referrals that lead to the hiring of qualified positions. It is also part of a commitment to using innovative ways to find the best drivers, according to Danny Crooks, Averitt's vice president of corporate transportation.
"Our drivers are some of our best recruiters, because they already know friends and acquaintances who would make a good fit for our team," said Crooks. "Programs like this are a win-win for our entire team, and we will continue to look for creative ways to help our team reach its goals."
ABOVE: Shreveport associate Brad Rogers (center) shows off his $5,000 prize that he won as part of Averitt's Cash In 2016 referral program. Also pictured are Danny Crooks (left), Averitt's vice president of corporate transportation, and Bryan Shirley (right), Rogers' fleet manager.