For years, we have promoted the saying "Our Driving Concern Is Safety" within our company. This slogan has become a daily mantra that is read and spoken aloud by thousands of Averitt associates on a daily basis. From our customer support specialists at our corporate headquarters to the men and women behind the wheel, we've developed a culture of safety.
At face-value, those five simple words may not have that much meaning to individuals outside of Averitt. However, once you consider the initiatives behind it, you will understand that it is more than just a catchphrase for our company and our customers.
There are aspects of our industry that can be challenging when left unchecked. That's why it's up to every one of our associates to be proactive in engaging in and promoting safe practices. This is particularly true when it comes to our drivers that spend many hours on the road handling heavy equipment and freight.
To help protect our associates, customers and the general public, we employ a safety program that creates continuous awareness and provides tools and technologies that improve our ability to safely deliver freight.
Training & Education Keeps Safety At The Forefront
Before a driver gets behind the wheel of an Averitt truck, they are required to attend our orientation program that is held at our corporate campus in Cookeville, Tenn. During this program that lasts several days, new drivers participate in classroom-style courses that engage and educate individuals.
Additionally, we require drivers to take a number of online safety courses. These courses are designed by our corporate safety team and cover a variety of topics. Our training courses are evaluated on a regular basis to ensure that they meet regulatory needs and are always up-to-date.
The Averitt Finishing School
Another safety-related initiative that we've taken is the development of the Averitt Finishing School. This is a multi-day program that provides new Averitt drivers with the skills and confidence they need on the road. New associates are taken under the wing of veteran drivers to learn extensive backing and turning maneuvers. Watch the video below to see the Averitt Finishing School in action!
Technologies Improve Equipment Safety Performance
Averitt employs a variety of safety-centric technologies that have improved our driving performance. These technologies range from forward-facing event recorders (cameras) to anti-jackknife stability systems. The following diagram provides an overview of just a few of the new technologies we are cycling into our fleet.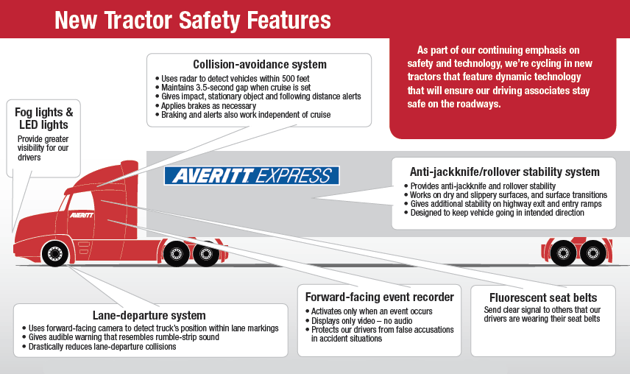 As you can see, the technologies found in newer trucks have drastically improved over the years. And not only are they helping to prevent accidents from occurring, they help keep our shippers' freight moving without delay.
Averitt's Safety Performance
The combination of better training and new technologies over the years is helping our team to improve our overall safety performance. Better yet, we're keeping more people safe on the road. Here are just a few recent company statistics that illustrate the benefit of our robust safety program.
Recent Safety Technology Statistics
Collision Mitigation Systems:

Zero Rear End Accidents in 2015 & 2016 With Tractors Equipped With Collision Warning
Blind Spot Radar:

23 Percent Reduction In Changing Lane / Turning Accidents
Lane Detection System:

52 Percent Reduction In Leaving The Roadway / Fatigue-Related DOT Recordable Crashes
Recent Safety Performance Statistics
Preventable Accidents:

In 2016, the number of recordable accidents was 0.70 accidents (both preventable and non-preventable combined) per million miles.
2017/2016 Comparison:

In 2017 (Jan-Nov), preventable accidents declined 9 percent and work-related injuries dropped 21 percent compared to 2016.
In addition to these positive numbers, our safety performance has been frequently recognized by industry organizations. For example, Averitt took first place in 2016 and second place in 2017 for the Tennessee Trucking Association's Fleet Safety Awards' "LTL 15,000,001 and Over" category.
When you put faces and families behind these numbers, you can see why we tell our associates every day:
"Our Driving Concern Is Safety"