On June 21, 2022, The Uyghur Forced Labor Prevention Act (UFLPA) took effect, effectively banning the import of all goods made in the Xinjiang Uyghur Autonomous Region (XUAR) of China. President Biden signed this law on December 23, 2021, after it overwhelmingly passed both houses of Congress. In addition to giving the government additional tools to enforce U.S. forced labor laws, the new law includes a statutory presumption that all goods from Xinjiang are made with forced labor.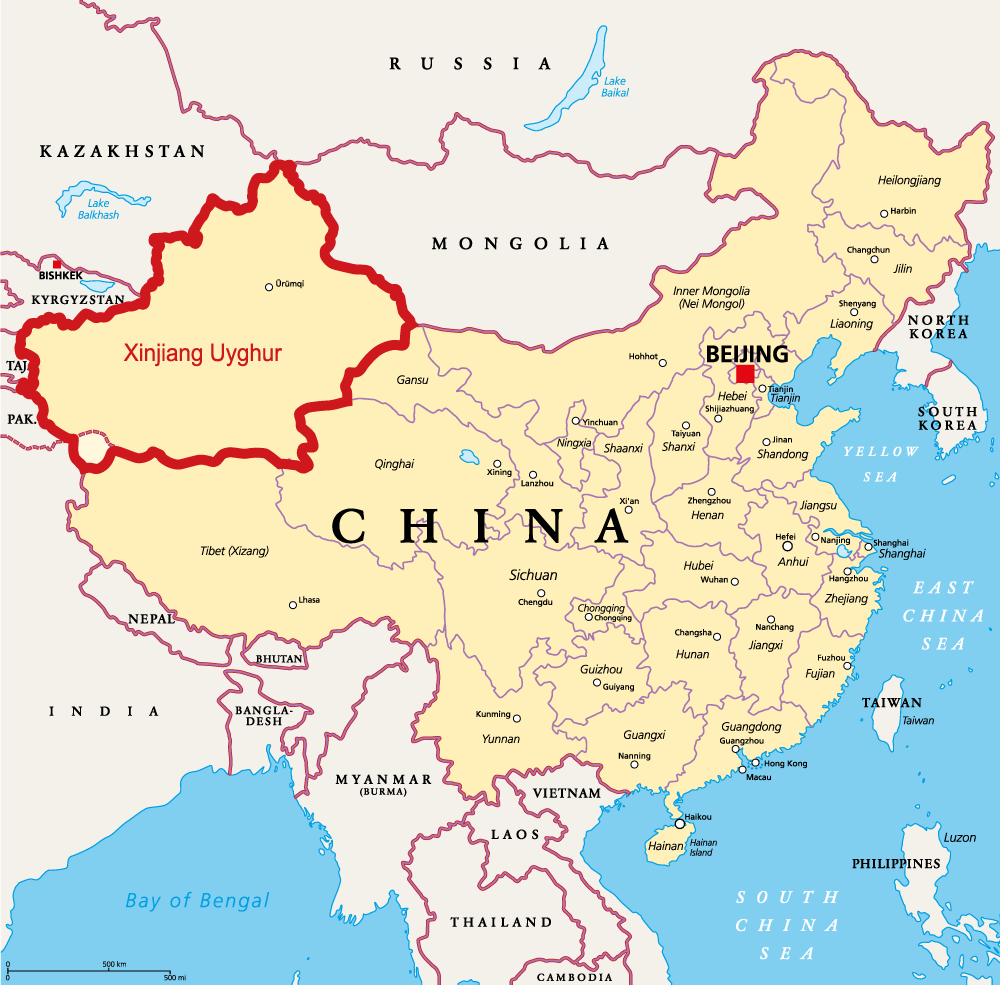 Why was the UFLPA necessary?
The law was prompted by a report from the Congressional-Executive Commission on China in March of 2020 that linked several product lines in the XUAR – including cotton and other textiles, cell phones, computers, electronics, and foodstuffs – to forced labor. The goal of the UFLPA is to prevent any goods made with forced labor in the XUAR from entering the U.S.
A statutory presumption.
Since the Tariff Act of 1930, there has been a prohibition on the import of goods linked to forced labor. Section 19 USC 1307 states:
All goods, wares, articles, and merchandise mined, produced, or manufactured wholly or in part in any foreign country by convict labor or/and forced labor or/and indentured labor under penal sanctions shall not be entitled to entry at any of the ports of the United States, and the importation thereof is hereby prohibited[.]
Historically, U.S. Customs and Border Protection (CBP) has enforced this prohibition by actively investigating whether there is forced labor in the supply chains of imports into the U.S. If there was reasonable suspicion that an import was the product of forced labor, CBP would then issue a Withhold Release Order (WRO).
But the UFLPA goes further – creating a statutory presumption that ANY good made in the XUAR is made with forced labor. This means that all goods, including goods produced with raw materials, inputs, or subassemblies made in the XUAR, are banned from entry into the U.S. Importantly, it also shifts the burden of proof from CBP to importers.
Using this UFLPA presumption, CBP can now seize goods it believes were made in XUAR, destroy those goods (if the importer is unable to produce proof that no forced labor was utilized), issue penalties, revoke import privileges, and audit importers who it believes are importing goods from XUAR.
Exceptions are only on a case-by-case basis.
If an importer is able to prove that their goods were not made using forced labor, the CBP can make an exception to the presumption. But the standards of proof are exceedingly high. To prove that merchandise was not made using forced labor, the importer must provide "clear and convincing" evidence – a legal standard far higher than the more commonly-used "preponderance of evidence."
To demonstrate clear and convincing evidence, the importer must provide detailed documentary proof of the country and region of origin of the merchandise, as well as its raw materials, inputs, and subassemblies. In addition, importers may be required to trace their products from every manufacturing stage across multiple factories and multiple countries. The documentation required includes production records of the components, proof of transportation, employee timecards, proof of payment for employee wages, and even photos and videos of the factories in progress.
That obviously creates a heavy burden of proof for importers.
New importer guidance.
In addition to developing a strategy to prevent the import of goods made with forced labor from the XUAR, the U.S. Forced Labor Enforcement Task Force (FLETF) was also tasked with issuing guidance for importers.
This guidance provides detailed instructions for companies on how to conduct the human rights due diligence and supply chain tracing required to prove that either A) their goods were not sourced, in whole or in part, from the XUAR, or B) they were not produced with forced labor if the goods are from the XUAR. These steps are required if a business is to overcome the "rebuttable presumption" of forced labor in the XUAR, or to otherwise prove that the UFLPA doesn't apply to their imports.
The full operational guidelines from the CBP can be found here. But in summary, the guidance directs importers and manufacturers to:
Review their entire supply chain entities against the UFLPA Entity List.
Conduct supply chain due diligence, including:
Supply chain tracing.

Supply chain management measures.
In order to rebut the statutory presumption, importers and their suppliers should also adopt:
A System of Due Diligence designed to ensure they do not import any goods mined, produced, or manufactured wholly or in part with forced labor. The Department of Labor's Comply Chain guidance lists these steps as particularly effective:
Engage stakeholders and partners.

Assess risks and impacts.

Develop a code of conduct.

Communicate and train across the supply chain.

Monitor compliance.

Remediate violations.

Conduct independent review.

Report performance and engagement.
Supply Chain Tracing that maps the entire supply chain from raw materials on up:
Incorporate information on the workers and their working conditions to your information on suppliers.

Demonstrate the chain of custody all the way to the finished product.

Either trace each product input separately or be able to demonstrate that each batch of commingled inputs is entirely free of forced labor prior to mixing.
Supply Chain Management Measures:
Vet potential suppliers for forced labor concerns.

Contractually require corrective action by the supplier if forced labor is detected.

Specify the consequences should a supplier fail to take corrective action.

Manage and regularly update supply chain data.
There are no minimums.
In the current regulation, there is no de minimis exception – which means that even a minor raw material sourced from Xinjiang or from a UFLPA Entity List party could prevent the entire shipment from entering the United States.
How to stay compliant?
As we've stated, the UFLPA presumption is rebuttable – but the standard of evidence required to obtain an exception is quite high. In light of this, U.S. importers and others involved in supply chains connected to Xinjiang should closely review the CBP UFLPA Guidance as well as the FLETF UFLPA Strategy in detail to assess whether they need to improve their import compliance and responsible sourcing programs more generally.