In late 2018, more than 2,300 shippers participated in our 4th annual State of the North American Supply Chain Survey. The following article examines a portion of the results.
Possibly the biggest topic of discussion in the logistics industry this past year was international trade. For many international shippers, 2018 was a roller coaster of uncertainty. Trade relations were upended as global powers challenged decades-old deals, ranging from Brexit to the North American Free Trade Agreement (NAFTA) and China-U.S. agreements. While the full outcome of the current state of affairs is yet unknown, shippers experienced the effects of the ongoing negotiations and tariffs throughout 2018.
TARIFFS MAKE PRESENCE KNOWN TO SHIPPERS
In late 2016, we asked shippers how they thought potential changes to U.S. trade relations with other countries would impact their business. Donald Trump had just won the presidential election in which he campaigned heavily to make drastic changes to U.S. trade relations. At that time, nearly 39% of respondents believed changes would have a positive effect whereas only 9% perceived a negative impact. The remaining 44% believed there would be no impact.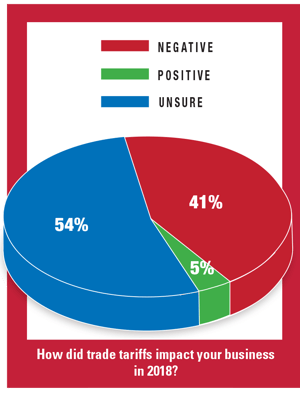 In the two years since, the U.S. and several of its core trade partners have imposed several rounds of tariffs on one another. With China as the largest importer to the U.S., tariffs between it and the U.S. have been particularly felt by international shippers.
When we asked shippers what kind of impact trade tariffs had on their business in 2018, the response was a stark contrast to the perceptions we gauged in 2016. While more than half of respondents were unsure or felt little change, 41% felt a negative impact. Only 5% said the tariffs had a positive impact on their business.
When asked to elaborate on their answer, the overwhelming majority said the negative impact was the increased costs on their supply chain. One of the key issues that importers experienced is the inability to find more cost-efficient domestic sources for raw materials and products, such as steel. As noted by one shipper, however, the costs are ultimately passed on to the end consumer.
CUSTOMS CLEARANCE STILL A KEY CHALLENGE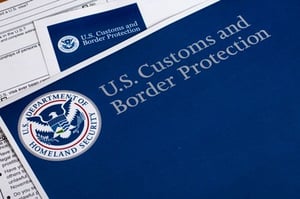 Aside from cost increases related to tariffs, international shippers say their No. 1 challenge is customs clearance. Though the issue slightly improved by less than 1 percentage point compared with 2017, 32% of shippers experienced issues with customs clearance in 2018.
Other challenges with international shipping tie into issues with available hauling capacity that has been seen throughout the industry. The second-most-cited roadblock for international shippers was on-time delivery to and pickup of cargo at ports; 21% of respondents encountered late or missed deliveries to ports, while 15% experienced issues with inland deliveries from ports.