The Business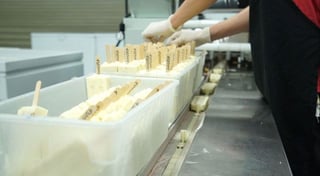 Frios is a gourmet ice pops company with more than 30 franchise store locations nationwide. Utilizing organic ingredients, Frios offers more than 50 taste-bud-exciting flavors that range from Blueberry Lemonade to Vanilla Chai Latte—all made by hand.
Based out of Gadsden, Alabama, owner Andy Harp started Frios after seeing an opportunity to fill a niche in the frozen treats market.
"I spent a lot of research and development time eating those popsicles and making sure that we had the right mix," Harp says. "It was something where I could take the things that I enjoy doing and make a career out of it."

The Challenge
Having a central production facility that supplies dozens of franchise locations with frozen products posed a unique challenge for transporting temperature-sensitive freight.
For years, Frios had relied on moving its products via parcel services in foam containers packed with dry ice. While such services were generally adequate for short-haul moves, the company often encountered scenarios where products were damaged during transit. The coolers, for example, were easily susceptible to damage, which could lead to increased internal temperatures due to exposure. Add in the dry ice, and the total cost of transportation for the frozen treats were quickly taking a huge bite out of the company's profits.
Additionally, foam coolers cannot be easily recycled or repurposed after use, which increased the environmental impact of the Frios supply chain.
Harp knew that there had to be a better cold chain solution available.
The Solution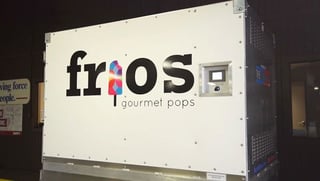 When he explained his challenge to Averitt, a plan was soon devised that would help Frios improve its cold chain distribution efficiency and also reduce its reliance on costly dry ice and multiple parcel shipments.
By using Averitt's Climate-Controlled LTL, not only has the Frios team been able to reduce damages and minimize its spending on dry ice and coolers, it was also able to cut the amount of time that employees had to spend packaging numerous parcels by 75 percent.
Here's how they do it:
Frios loads products into the pallet-sized LTL Climate-Controlled Unit

Averitt picks up the unit at the Frios headquarters

The full unit then travels throughout the Averitt distribution network for multiple in-store deliveries
All supported by around-the-clock monitoring by Averitt's Specialized Services Team
What makes the Climate-Controlled LTL Unit so unique?
Cost-effective alternative to full load refrigerated trailer
Maintains specific temperature within a single degree (±1°C)
Battery life of up to 5 days
Detailed end-of-trip report that shows temperature in and outside of unit, GPS locations during transit, and much more...
In the end, the relationship between Frios and Averitt has helped Harp and his team to worry less about the logistics of doing business so that they can focus on growing and satisfying customers around the country.
"They have brought us an innovative solution that will absolutely revolutionize the way that we do our shipping and logistics," Harp says. "But in addition to that, they've been completely customer-focused, everywhere from the sales process to the on-site folks that we've dealt with. They're completely focused on customer satisfaction, and that is something that we have not had from any other carrier."