Averitt's Specialized Services gives Grand Ole Opry precision and care on priceless move
Tourists seeking an authentic Country music experience outside of the South need look no further than Times Square. While the iconic street performer known as the "Naked Cowboy" has been entertaining crowds on Broadway for many years, it's a new restaurant and venue that's bringing the Nashville sound to Manhattan, with Averitt's help.
Opry City Stage is a new multilevel complex offering up Southern flavors with a mixture of Country music history. Designed in the likeness of the historic Grand Ole Opry, complete with stained-glass windows, the venue is adorned with priceless Country music memorabilia and artwork.
The Challenge
Transporting one-of-a-kind pieces, including fragile artwork and golden records, posed a challenge for Opry Entertainment.
"My major concern was ensuring that our items would move securely and without encountering damages during the move from Nashville to New York City," said Wes Osborne, creative project manager for Opry Entertainment.
At the same time, everything would need to arrive in in downtown Manhattan to coincide with scheduled appointments with professional installation teams.


The Solution
Having little experience with handling such a high-pressure move, Opry Entertainment reached out to Averitt. The two companies had partnered previously to transport time-sensitive freight for the opening of musician Blake Shelton's Ole Red restaurant in Tishomingo, OK.
"When I spoke with Wes to gauge his concerns and needs for the project, I knew that Averitt could help out" said Klay Lesko, a Nashville-based Averitt transportation specialist.
"The great thing about Averitt is that we have a wide variety of services and solutions that can help our shippers succeed – no matter what their challenges may be."
Given the nature of the freight and time frame involved, Averitt's Specialized Services team was put in charge of strategizing and managing the project.
"Our Specialized Services offering was a perfect match for the needs of Opry Entertainment," said Calvin Craigo, Averitt's Specialized Services leader. "Our team provides high-level customization on projects that need an extra sense of security and care."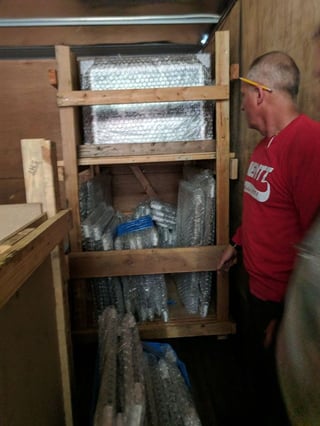 The items, including a 12' by 8' (3 3'x8' panels) wall installation made of 10,000 guitar picks, required a special touch when it came to packaging and loading them into the trailer. To protect the pieces, Averitt brought in customized crates to Opry Entertainment's warehouse and packaged everything on-site.
Due to the limits of traversing through Manhattan, the Specialized Services team utilized a 28-foot truck for the move. GPS tracking devices were also placed in the crates to provide additional security for the 900-mile trip.
Throughout the trip, the Specialized Services team monitored the location of the truck and provided updates to Opry Entertainment.
As a result of the route planning and communication with the Opry City Stage team, the driver and freight arrived right on schedule.


The Results
In the end, the historical pieces and fragile artwork arrived unscathed – ready to catch the eyes of diners and tourists alike. Having the custom-built crates and monitoring from Averitt's Specialized Services team throughout the entire journey from Nashville to Times Square made the process that much smoother for Opry Entertainment.
"Averitt exceeded our expectations on this project," said Osborne. "They were very straight-forward throughout the process, and provided the security and planning we had hoped for."
As Opry Entertainment continues to grow its brand and share the country music experience, Averitt will be right there ready to help!


Watch the video below to learn about customized solutions available through Averitt's Specialized Services.