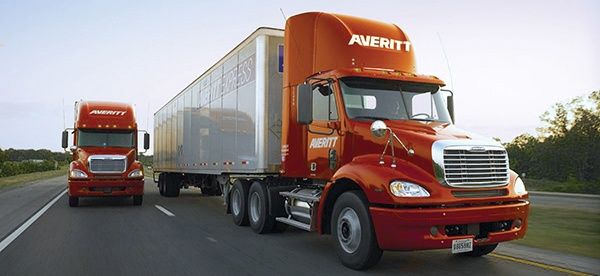 In this third and final part of our series on how you can reduce the likelihood of being hit by Must Arrive By Date (MABD) fines and delivery chargebacks, we will discuss the final key to making a successful journey to retail store shelves: your carrier.
The truth of the matter is that you can have a spotless supply chain, and an excellent team of employees and vendors, but if your transportation provider doesn't bring expertise in retail delivery to the table, you can expect your MABD chargebacks to add up.
At Averitt, for example, we have built a reputation of being "Retail Ready" because we keep our MABD Compliance score at 98% or above at all times. Our willingness to work closely with and coach our customers on meeting MABD and retail delivery guidelines has also earned us the Walmart Regional Less-Than-Truckload (LTL) Carrier of the Year Award for four-straight years.
What To Look For In Your Retail Carrier
As you research and talk with companies about handling your retail shipments, keep in mind that this service area differs from traditional less-than-truckload. You should identify transportation providers that can provide you with the following:
Knowledge of Must Arrive By Date Compliance
Do you have to write or add to your shipping documents to get the attention of a carrier about your due dates?
Do you have to stress to them the importance of meeting the dates?
Work with an LTL company that pays attention to your business. You shouldn't have to take a million extra steps to ensure that your retail shipment arrives to a distribution center on time.
MABD And Retail Delivery Systems Already In Place
Any carrier can watch shipments with a team or check compliance afterwards, but you need the carrier that has systems in place to manage the shipments without constant supervision.
A Retail Ready LTL provider should also be flexible in how you can go about requesting retail deliveries. Do they allow you to notify them via web, EDI, telephone, or simply by making note of it on the bill of lading (BOL)? Additionally, a proactive retail transportation company should be able to monitor and report easily and quickly about whether Must Arrive By Dates or retail due dates are being met.
Maintains Documentation and Assists With Chargeback Fines
If you do receive a chargeback or fine that you believe you shouldn't have, you should know that there are ways to recoup losses. Some LTL providers may be will to go as far to:
Retain copies of delivery documents, such as guard shack tickets that can be used to confirm a delivery date
Keep copies of appointment confirmations with the consignee
Make note of weather delays
Be willing to review and assist you with communicating with the retailer when you feel you have been wrongfully fined
Optimize Your Entire Retail Supply Chain
Does your carrier go beyond one-way LTL deliveries to retail distribution centers? Your retail supply chain is probably more diverse than that. It may start in Hong Kong and is then shipped on a container vessel to the Port of Los Angeles. From there, your products may be transloaded for intermodal service onto a flatcar bound for Texas.
Perhaps your business relies on one or more of the following services:
Running a business is complex enough, but that doesn't mean your supply chain has to be. When you deal with multiple transportation and logistics providers, your freight is touched by just as many hands. Look for ways to streamline your transportation processes.
When you find a partner instead of a transportation provider, MABD fines and chargebacks will disappear in the rearview mirror!
---