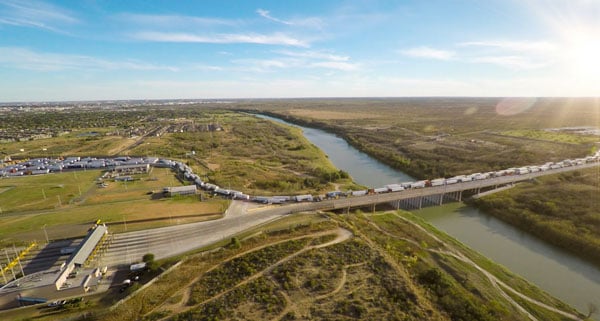 It may not come as a surprise that Mexico is the 3rd largest trading partner with the U.S. In 2015, two-way trade in goods between the two countries totaled $531 billion according to the U.S. Trade Representative. Out of that total, imports from Mexico numbered $295 billion (up 73% from 2005).
As the cost of overseas production has grown in recent years, manufacturing jobs have increasingly moved to Mexico (particularly in areas along the border). This move has also been spurred by the fact that U.S. supply chains are seeing greater cost benefits to reducing the distance of their transit routes via the border rather than sending products across the ocean.
The Failure To Maximize Potential When Importing From Mexico
Many shippers struggle to realize the full cost- and time-saving potential of streamlining their international supply chain when it comes to importing from Mexico. There are many hurdles to be faced when shipping cross-border, especially when visibility and communication hits the language barrier.
What Shippers Can Do To Reduce cross-border freight risks
Fortunately, there are several opportunities that transportation and logistics managers can take advantage of to improve their cross-border supply chain performance.
1.) Consolidate Freight Before It Hits The Border
If your freight originates in multiple locations in Mexico, try to consolidate it into one truckload shipment before moving it across the border. Putting all your apples in one basket is actually beneficial when importing from Mexico because it significantly reduces the chance that part of your shipment could get held up or lost along the way. If you don't ship enough freight to warrant the use of an exclusive trailer, some carriers will actually consolidate the shipments of multiple customers together.
2.) Bridge The Language Gap
Who will make the necessary calls and be able to speak Spanish fluently if issues arise with your freight while it's in Mexico? Make sure that your service provider or someone on your team can speak the language of your freight's origin. Otherwise, it might literally get lost in translation.
3.) Don't Be a Victim of a Customs Holdup
Holdups at the border can occur for a variety of reasons. Paperwork should never be one. If you don't have much experience with importing from Mexico, make sure that you work with a transportation provider that understands the intricacies of international shipments. Ask your service provider if they can handle the Customs Brokerage process or recommend a licensed broker.
4.) Know Who Is Moving your Freight Inside Mexico
You may know who moves your freight from the border to your door, but do you know who is handling it from your supplier in Mexico to the border? If you are going through a third party, ask for information about the Mexican carrier they use. Do they have a good safety record? Will they communicate well with your U.S. contact?
5.) Keep Your Supply Chain Straight as an Arrow
When it comes to importing from Mexico, many issues come about as a result of the number of hands that touch a shipper's freight. When there are numerous parties involved (carriers, warehouses, brokers, etc.), communication and visibility are generally the first casualties. Other than the risk of becoming lost between parties, damages to freight are increasingly likely as more hands touch it.

Working with a transportation company with facilities along the U.S. side of the border can help reduce transit times and the number of touches on your shipment by eliminating needless 3rd parties. Simply specify the carrier's address as the "Ship To" address for your inbound shipment from Mexico.

#ShipperProTip: Seek out service providers that can manage the entire process from door to door and not simply rely on a patchwork of numerous contractors.