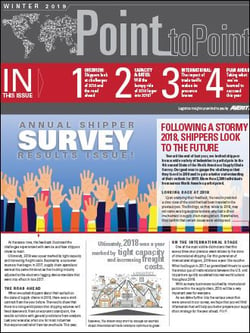 In late 2018, we asked shippers to participate in our 4th annual State of the North American Supply Chain survey. The purpose of the survey is gauge the challenges that shippers faced over the course of 2018, and to gain a better understanding of what they believe will be their biggest challenges in 2019.
More than 2,300 shippers from a wide variety of industries participated in the survey. Upon compiling and analyzing the results, we found several key points of interest.
More than a quarter surveyed experienced issues with capacity constraints in 2018
Expected shipping volumes for 2019 ease down from 2018 high
More shippers turned to expedited services in 2018 in response to capacity shortage
Overall on-time and freight damage issues improved in 2018
41% of shippers viewed trade tariffs as having a negative impact on their business in comparison to only 5% that experienced positive effects in 2018
And more...
In order to help other shippers plan and prepare for the rest of year, we've compiled the results into a free white paper. This white paper is free to download and share with colleagues and friends. We hope that you will find value in the feedback provided by more than 2,300 industry peers.