Readers of Logistics Management magazine have recognized Averitt Express as a top transportation and logistics services provider in the publication's 36th Annual Quest for Quality Awards.
Shippers NAME Averitt As Top Warehousing & Distribution Services Provider In THe Nation
Averitt took the top honors in the category of Value Added Warehousing and Distribution Solutions. Additionally, the company was recognized for service in the categories of South/South Central Regional Less-Than-Truckload, Expedited and Truckload Dry Freight.
More than 4,500 shippers participated in this year's survey, which gauges customer satisfaction across several transportation and logistics service categories.
"We are honored to be recognized by the shipping community once again for our continued dedication to providing innovative solutions," said Averitt president and chief operating officer Wayne Spain. "From our drivers to our distribution center and customer service associates, our team is dedicated to ensuring that our customers' supply chains thrive in today's ever-evolving business environment."
Since the Quest for Quality Awards program began in 1984, no other carrier in the South has earned more honors than Averitt.
The Quest for Quality Awards poll is one of the most extensive of its type within the transportation and logistics industry. The honors were determined by several criteria, including on-time performance, value, information technology, customer service, and equipment and operations.
Value Added Warehousing and Distribution Solutions
Shippers voted Averitt as the nation's top service provider in warehousing and related inventory distribution logistics. This year's survey marks the first occasion that Averitt has been eligible to place in the warehousing category.
In addition to receiving the highest overall score, Averitt took the number one position in three out of four categories, including order fulfillment, transportation distribution and inventory management.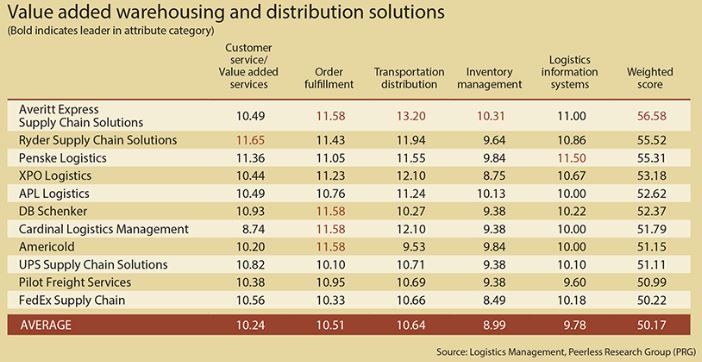 Averitt officially launched its Distribution and Fulfillment Solutions offering in January 2019. Since then, the service has expanded to include more than 20 locations totaling over 1,000,000 square feet of freight and inventory staging space. The service offers shippers access to customized warehousing, delivery and end-to-end supply chain solutions.
South/South Central Regional LTL Carriers
Over the course of the history of the Quest for Quality Awards, Averitt has consistently made the list of top South and South Central Regional LTL Carriers. This year was no different for the Tennessee-based carrier, which took second place overall.

Full Load Dry Freight Carriers
When it came to selecting the best full load dry van service providers in the nation, Averitt took the second place position. Averitt scored high in every category, including on-time performance and overall value. Averitt has been voted as a leading dry van carrier for several years running, including in 2016 when the company took the top honors.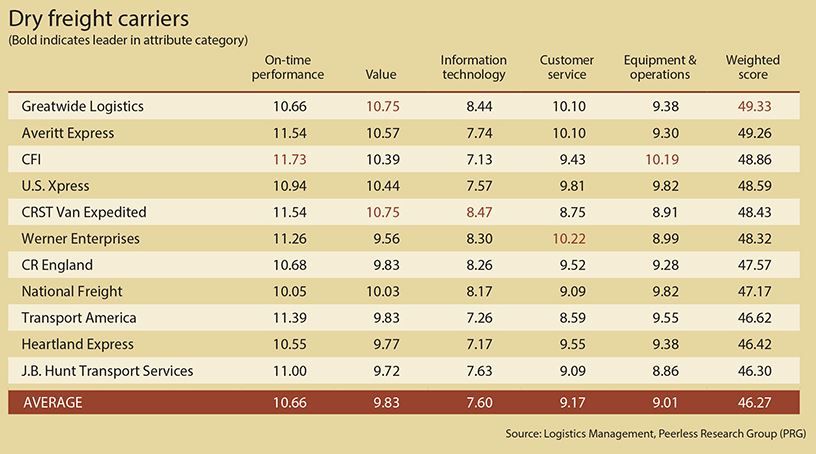 Expedited Motor Carriers
Averitt was also recognized for excellent service in the category of Expedited Motor Carriers. Averitt scored the highest rating in terms of overall value in the category. In addition to expedited full load services, Averitt also offers nationwide expedited LTL and cross-border solutions.