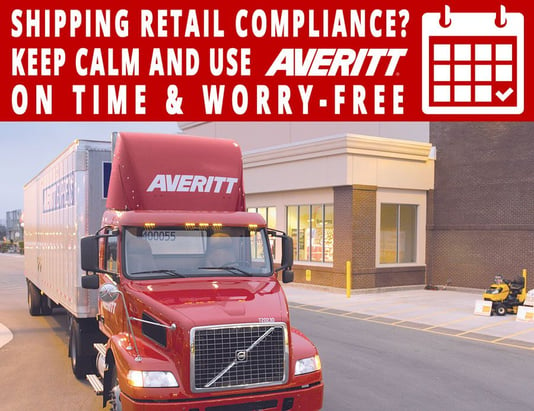 In its continued effort to help retail suppliers meet growing industry demands, Averitt has enhanced its award-winning retail compliance solutions to provide suppliers with a simple, single due date delivery service to retail distribution centers.
This improvement ensures that retail suppliers will be able to meet strict delivery windows and compliance standards that have been set forth by many major retailers. Failure to make on-time deliveries, which can result in costly surcharges, has been a thorn in the side of many suppliers.
Retail Delivery Windows Continue To Shrink
For years, the proliferation of e-commerce consumerism has forced major brick-and-mortar retailers to explore new tactics to reduce their supplier-to-shelf turnarounds.
For instance, one leading retailer had announced in 2016 that they would cut their 4-day delivery window down to two days in early 2017. However, they have already reduced the window for non-perishables to two days and perishables down to just one day.
"The growth of retail compliance and delivery requirements has been challenging but ultimately necessary for the retail industry," says Phil Pierce, Averitt's vice president of sales and marketing. "Fortunately, we have the systems and procedures in place to ensure that our customers get their product to their buyers on time without any worry or hassle."
Opportunity For Some, Business As Usual At Averitt
The changes in the retail marketplace have created an environment that some transportation providers are trying to leverage over retail suppliers. Many suppliers, for example, are now being charged 'value-added' fees for deliveries that go to a retailer's distribution center.
Averitt, however, has approached retail compliant delivery from the beginning as a standard practice within its less-than-truckload services. Foregoing upcharges or accessorial fees on time-sensitive retail deliveries, Averitt has built a strong reputation among suppliers and retail businesses for its ability to adapt quickly from both technological and service standpoints to the transformation of the retail supply chain.
Backed by a specialized operations team of retail compliance experts, Averitt has won several service recognitions, including four straight awards from Walmart.
"We believe that the success of our company will only be equal to that of our customers," says Pierce. "Whether it's retail delivery or cross-border shipping, we are continually looking for ways to improve and streamline our capabilities in order to reduce the stress of our customers so that they can focus on growth rather than transportation."


Are You Challenged By Retail Compliance Demands?
Navigating the complexities of retail compliance and shrinking delivery windows can be difficult for a supplier to manage on their own. As industry standards become stricter, businesses will need to pay even more attention to their transportation and supply chain practices than ever before.
To help retail suppliers overcome the challenges of compliance-based deliveries to Walmart, Target and other major retailers, we've put together an informative white paper that is free to download.
Additionally, if you have any questions about Averitt's retail compliance delivery service, please contact us at retail@averittexpress.com or 1-800-AVERITT.