COOKEVILLE, Tenn. – In response to the recent wildfires and tornadoes in East Tennessee, Averitt Express associates have contributed $10,000 to the American Red Cross to help the relief efforts in that area.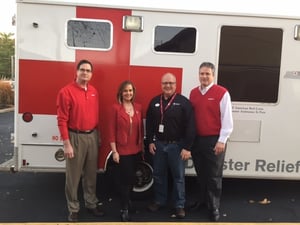 The contribution comes from Averitt's associate-driven charitable giving organization, Averitt Cares for Kids. Nearly 85 percent of Averitt associates are part of this group, giving $1 per week to make a difference in the lives of countless people.
"Our hearts go out to the people who have been impacted by the natural disasters in East Tennessee," said Gary Sasser, Averitt's chairman and chief executive officer. "We want to do what we can to help the relief efforts there, and we're proud to partner with the American Red Cross as it continues its important work."
Red Cross disaster workers are currently assisting those who have lost their homes and possessions, providing relief and support services. This work includes operating three shelters in Tennessee to provide a safe place to stay, as well as providing necessities for evacuees.
For more information about Averitt associates' charitable giving efforts, visit AverittExpress.com/AverittCares.
###
Photo Caption: Red Cross of East Tennessee board member Lori Tucker (second from left) and Red Cross of Northeast Tennessee board member Clark Parker (second from right) thank Averitt Express' Keith Davis (left) and Bryan Snyder (right) for Averitt's $10,000 donation to the American Red Cross.