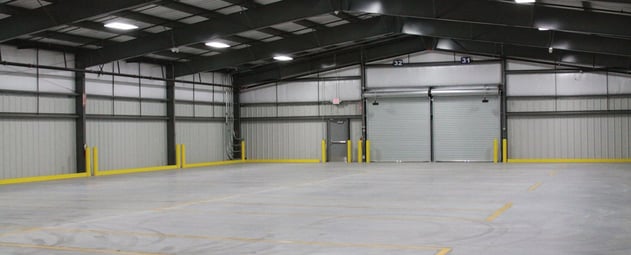 FORT SMITH, Ark. (Sept. 14, 2012) — Averitt Express recently completed construction on a new Fort Smith facility on South Zero Street, which includes expanded operations to meet customer needs for customized warehousing and distribution.
The new service center, which is at the intersection of South Zero Street and State Highway 45, features more than 30 dock doors and 25,400 square feet of space. About 10,000 of that is enclosed space ideal for storage, processing and warehousing operations.
"This facility is designed specifically to provide an enclosed and secure warehousing and distribution space for our customers in the Fort Smith area," says Michael Smith, Averitt's service center director in Fort Smith. "This flexibility allows us to provide some innovative services for our customers that they might not be able to find with another transportation company or warehouse provider."
Long known for its full suite of transportation solutions, Averitt has been providing dedicated warehousing services for more than 10 years. Averitt currently provides a variety of value-added warehousing and distribution services for companies in multiple vertical markets, including retail, medical devices, apparel and automotive. Averitt also provides international distribution services, including container transloading. In addition to its dedicated warehouse services, Averitt offers flexible, multi-customer warehouse space throughout the U.S. and can also provide build-to-suit solutions.
"We're continuing to work with companies who are looking for flexible warehousing options to accommodate spiking inventory levels. The Fort Smith market is an ideal location for shippers needing space for storage, processing and distribution between the South and the Southwest and West," said Phil Pierce, executive vice president of sales and marketing. "Our many years of experience in this arena gives us the ability to offer a variety of options and scalable warehouse solutions for our customers without long-term contracts. Averitt will continue to make investments to further enhance our warehousing capabilities and capacity."
In addition to warehousing, Averitt offers a wide range of transportation options to shippers in the Fort Smith area, including;
Same-day cross-town cartage
Night and weekend pickups and deliveries
Trailer switching
Milkruns or multi-stop runs
Plant-to-plant deliveries
Local expedited or "hot shot" runs
For more information on warehouse space in Fort Smith or any of Averitt's locations, visitwww.averittexpress.com/warehousing, call 931-520-5109, or email warehousing@averittexpress.com.