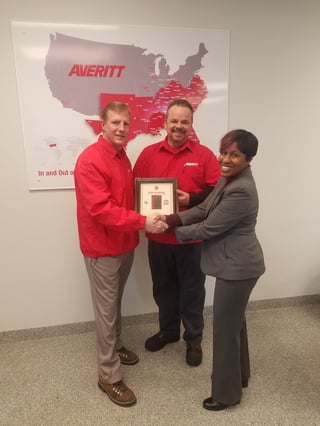 ST. LOUIS, MO. –
The Missouri Division of Workplace Development recently recognized Averitt Express for its commitment to hiring military veterans, presenting Averitt with the Flag of Freedom honor as part of its Show-Me Heroes program.
More than 20 percent of Averitt's current associates have served in the U.S. military. Additionally, Averitt has pledged to add 1,200 more veterans to its team by 2020.
"We're very humbled to receive this recognition from the Show-Me Heroes program," said Elise Leeson, Averitt's vice president of human resources. "Adding veterans to our team is a win-win for everyone, because they know the importance of teamwork and helping each other for a common cause. They're also dedicated to providing outstanding service, and that makes them a great fit for our unique culture."
To learn more about the career opportunities Averitt offers military veterans – including profiles of several associates with varying service backgrounds – visit AverittCareers.com.
Photo caption: Jennifer Wade (right) of the Missouri Division of Workplace Development presents the Flag of Freedom award to Averitt Express' St. Louis service center director Scot Hollocher (left) and driving associate Joseph Ailshie (center). Ailshie served in the United States Marine Corps during operations Desert Shield and Desert Storm.
Topics: Recruiting