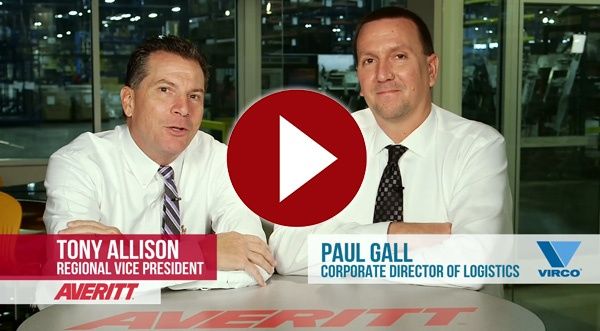 COOKEVILLE, Tenn (January 28, 2014) — For the third year in a row, Averitt Express has been honored with an Alliance Award for working closely with its customers to develop results-driven logistics processes. Transportation publication World Trade 100 and SMC3, an industry trade association, recognized Averitt, PITT OHIO, Land Air Express of New England, The Reliance Network (TRNet), and Virco for their collective efforts in devising cost-saving supply chain solutions.
The Alliance Award honors shippers and their alliance partners for solving problems or driving change and improvement in a supply chain. Candidates for the award are judged on a variety of metrics and results they have achieved and their ability to also take advantage of the different strengths of each alliance partner.
"Virco's had a relationship with Averitt for over 10 years. We're now participants in Averitt's strategic account management group," said Paul Gall, Virco's corporate director of logistics. "Averitt takes the time to understand our day-to-day needs and our long-term strategies."
Through a hybrid pool consolidation process led by Averitt, Virco was able to leverage the combined strengths of TRNet members to save up to $1,000,000 annually in operational costs, reduce product damages by 80%, improve on-time deliveries by 40%, and significantly cut carbon dioxide emissions.
"We're honored to receive an Alliance Award for the third straight year," said Phil Pierce, Averitt's vice president of sales and marketing. "The relationship that we have with Virco allows us to continue to find new and innovative techniques for improving our collaborative supply chain solutions. The results prove than an equal amount of dedication and hard work from each team is necessary to accomplish great things in our industry."
To learn more about the Averitt/Virco relationship, watch the video at AverittExpress.com/Virco.