COOKEVILLE, Tenn. (Jan. 24, 2013) — World Trade 100 magazine, a leading transportation industry publication, and SMC³, an industry trade association, have awarded Averitt and its customer, Tuesday Morning, with an Alliance Award in the Domestic Freight Multimodal category.
The Alliance awards program, which was instituted this year, recognizes alliances in high-performing supply chains that are driving results. Attention is focused on why and how the alliance was formed, the roles of the various partners, and the results attained by the close collaboration and cooperation represented by the alliance.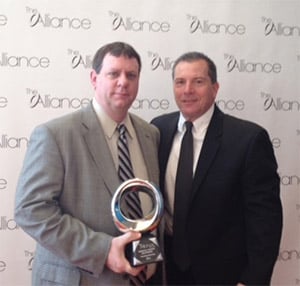 "The winners of The Alliance award exhibited a strong recognition of the benefits of a more holistic view of their supply chains and the vendors, suppliers, customers, and peers who are partners in driving positive results which benefit all of the partners," said Sarah Harding, group publisher of World Trade 100.
Danny Slaton, SMC³ executive vice president, added, "These elite award winners represent a great cross-section of supply chain organizations. Their successes illustrate just how important collaboration is to supply chain optimization. We look forward to sharing their best practice approaches at The Alliance awards ceremony."
The Alliance awards were presented at the SMC³ Jump Start 2013 conference on Jan. 22, with further coverage provided by World Trade 100's iPub and digital edition through World Trade 100's iPad app and www.worldtradeWT100.com.
Tony Allison, regional vice president at Averitt, and Brian Turner, director of logistics and planning for Tuesday Morning, made a presentation at the conference and accepted the award. A video about the Averitt/Tuesday Morning relationship is available at www.worldtradewt100.com/video.