It's a story as American as apple pie: A lighting salesman begins tinkering with manufacturing designs of his own, using nights and weekends to build lamps in his garage. Over time, he starts selling them to mom-and-pop lighting stores, until he can afford to buy a space in a popular industry trade show.
Fast-forward 30 years, and that man's company is the world's leading maker of high-end, designer lighting fixtures.
That's the origin story for Visual Comfort & Co., a Houston-based manufacturer that brings lighting designs
from names like Ralph Lauren, Kate Spade, Thomas O'Brien and more to storefronts and interior designers
throughout the world.
As one might expect given that kind of dramatic growth, change was inevitable. Due to increased production demand, virtually all of the company's products are now manufactured in China. As a result, the
first few months of 2020 presented a perfect storm of challenges.
Growth, Challenges And 2020
First came Chinese New Year – the largest annual mass migration on the planet. Since the family reunion
is the most important aspect of the holiday, there's an exodus of workers who abandon cities to see elderly
parents still living in rural villages. (Anyone who outsources a product from China is familiar with the
phenomenon – essentially, 1.4 billion people go on vacation at the same time.) Without planning ahead,
the holiday can wreak havoc upon international supply chains. To compound matters, in 2020, the holiday
extended from Jan. 25 through Feb. 8 – which had it ending just in time for COVID-19 to hit the nation.
"For the first three or four weeks, we definitely had problems getting product out of China," says Ronnie
Moseley, Visual Comfort's director of distribution. "Then once things opened back up, product started coming in."
The problem quickly became how to keep up with demand. The company's e-commerce orders were up nearly 27% over the past several months – a fact attributed to people being largely confined to their homes and making the decision to fix them up. While there's a significant push to build more brick-and-mortar stores (the plan calls for up to 50 new locations for Circa Lighting, the brand's signature retail partner), a growing portion of Visual Comfort's current business is done online, fulfilling customers' orders directly to designers and even homeowners.
That means more and smaller orders. It also means delivery to end users, not retailers. All of which requires
a distribution center that can keep up.
As it happens, they've got just the thing. Within just months of building a new 237,000-square-foot distribution center, the company outgrew it. Visual Comfort is now in the process of completing a 117,000-square-foot addition. The size, however, isn't the key. It's the approach that truly sets the company's distribution abilities apart.
"When you're building a distribution network, the one thing you have to do is make sure you've got the right people doing the right jobs," says Moseley. "So here at Visual Comfort, it's all about creating the best culture for our team members that we can. And there's a lot that goes into that – from incentive programs and regular pulse checks, all the way down to what we call 'Gatorade Friday,' where we give out Gatorade all day
long." (As you can imagine, it gets pretty hot in Houston.)
Technology Increases Efficiency And Safety
From a technology standpoint, the primary focus is on how many "touches" it takes to get a box in the door,
then back out. That starts with addressing the commonsense aspects; for instance, ensuring that the fastest-moving items are staged near the shipping area. It's then that the investment in technology really takes over.
"Our entire building is wire-guided," Moseley continues. "That means when a lift driver pulls into an aisle, it automatically locks the machine into that aisle. It takes the steering away from the driver, so all they have to focus on is getting to the right location and picking up the right item. It keeps their focus on what they're really trying to do, instead of worrying about hitting the rack."
From there, the focus on "touches" becomes even more literal. Instead of using an RF gun to scan items
(which the operator is constantly picking up and setting down), everyone on the floor wears a Bluetooth ring
scanner on their finger – so all they have to do is brush their finger over the item's label to create a transaction form. "There's nothing to pick up and set back down before you grab a box."
Lighting Up The Final Mile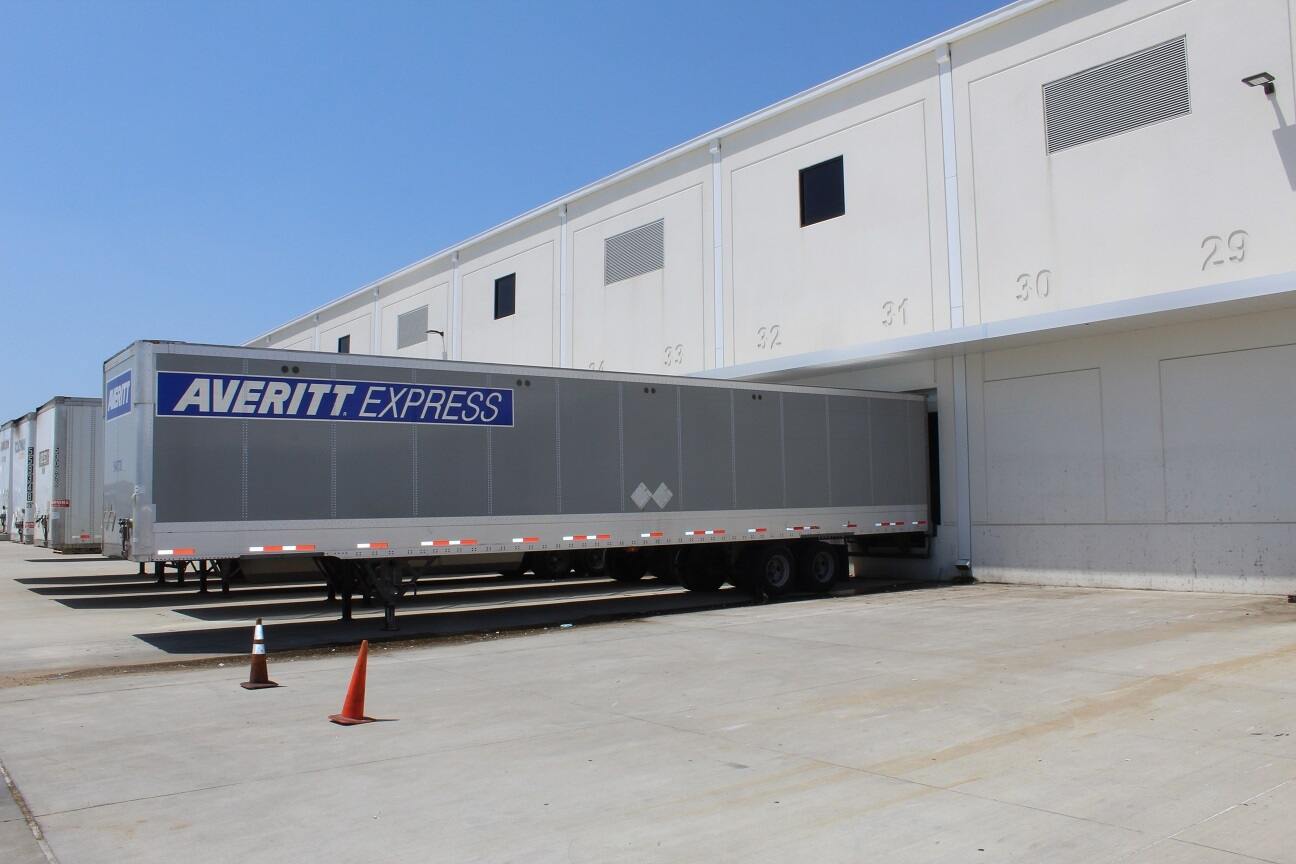 As more consumers turn to online shopping, the customer's delivery experience is increasingly an important focus for shippers like Visual Comfort.
"The last thing our customer remembers is the handoff – when it actually gets to their house. That's why reputation is so important," says Moseley. "I always say 'who would you rather have deliver to your customer? Some no-name company with their beat-up, dirty trucks, or a really nice fleet that has drivers with great personalities?'"
He credits Visual Comfort's 12-plus-year relationship with Averitt – which includes the coordination of final
mile deliveries – as definite factors in the company's success.
"Averitt's been one of our best partners," he says. "The drivers are some of the best in the business, and the trucks are new and consistently clean. Early on, we felt that Averitt would be a good fit for us. And we weren't wrong."
Protecting Its Associates Amid COVID-19
Given the rise in online ordering, the company has been fortunate to avoid much of a sales impact from
COVID-19. But from an operations standpoint, it's made several significant changes to better protect its personnel.
"Right out of the gate, we adopted many of the CDC guidelines so we wouldn't have to change them late,"
says Moseley. "We figured they were the experts. So no one's allowed in the building other than Visual Comfort employees. Everyone's temperature gets checked at the beginning of the day. Everyone's issued a new mask every day. And everyone has to sanitize their hands when they enter the building."
Aside from the steps to enter the distribution center, Visual Comfort emphasizes communication, empathy and incentive programs.
"We also do weekly meetings and have screens throughout the building where we display updates and guidelines. There's signage everywhere reminding people to wash their hands, social distance, etc. We took tables out of the break room to create separation. We've hired new staff specifically to clean – wiping down handles, railings, tables, elevators, workstations, you name it. We do that 24 hours a day, five days a week. Anything to protect our coworkers as much as possible."
Moseley is also quick to point out that Visual Comfort is taking the long view of the pandemic.
"At the start of the outbreak, absenteeism shot up by as much as 25% – because people were afraid," says
Moseley. "So we tried to educate people on the fact that this is something that's going to be with us for a long time. We wanted to take the fear away."
The company also wanted to incentivize employees for staying the course.
"For every week that a coworker comes to work and doesn't miss any time, we give them an extra $50. That's in addition to lunches, snow cones and other little perks that let them know how much they're appreciated," adds Moseley.
It's that focus on the good of the team that has Moseley optimistic about what tomorrow holds.
"For us, even through COVID, the future looks good," he says. "We might get set back a little bit, but we've
always come out stronger on the other side. That has everything to do with the dedication of our team
members and understanding what the common goal is."
---
Averitt is a leading supply chain and logistics solutions provider. Excelling in residential delivery, Averitt offers direct-to-home final mile and white glove delivery services.