On January 1, 2020 Incoterms 2020 went into effect. These rules from the International Chamber of Commerce (ICC) establish guidelines for how shipments are handled between buyers and sellers in different countries.
The ICC originally published them in 1936 and have made updates every decade since then to reflect changes in the global trade environment. The last update was in 2010.
What are Incoterms?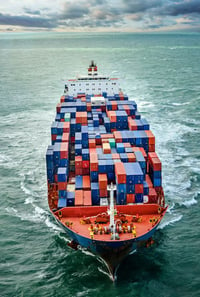 The name Incoterms is an abbreviation for International Commercial Terms. They're a set of rules released by the ICC that relate to International Commercial Law. The goal is to provide internationally-accepted definitions of the selling terms that the buyer and seller of goods both agree to during international transactions.
Incoterms also define other important aspects of trade, such as who is expected to pay the insurance, and when the transfer of risk happens between the buyer and the seller. As a result, it's important that all parties involved in the transaction clearly understand how incoterms 2020 will apply to global supply chains.
What Changed With Incoterms 2020?
Compared to previous years, not that much has changed. However, there are a few updates worth pointing out. (Please note this is not a complete list. For full details, or to get your own copy of Incoterms 2020, visit the ICC website.)
One New Term in Incoterms 2020: DPU Replaces DAT
The previous Incoterm DAT (Delivered at Terminal) has been replaced with DPU (Delivered at Place Unloaded). The reason for the change is to clear up any possible confusion over the word "terminal." The new term applies to unloading that occurs at any place – not just a terminal.
A Change in The Level of Insurance Between CIF and CIP
Under Incoterms 2010, the insurance cover for both CIF (Cost Insurance & Freight) and CIP (Carriage and Insurance Paid To) was required under Institute Cargo Clause C. Under the new international shipping terms, CIP requires the more comprehensive Institute Cargo Clause A. The change was made because Clause A covers a more comprehensive level of insurance, which the ICC felt made it it better suited to manufactured goods.
More Clarity Around Costs
Incoterms 2010 caused significant cost issues among some parties – with sellers facing new back-charged handling costs when a carrier changed their pricing. Incoterms 2020 offers greater detail regarding costs – clearly spelling out which costs are allocated to which party.
Heightened Security Information
Reflecting the ongoing need for improved security, Incoterms 2020 now provides more detail around security allocations and costs. The new terms make it much more clear which party is liable at two key points: transport from the country of origin, and customs clearance into the destination country.
Buyer's and Seller's Own Transport
2020 represents the first time Incoterms has recognized that both the buyer and seller can transport goods themselves using their own vehicles. In previous versions, it was assumed that all transport would be carried out by a 3rd party provider. This update only effects Free Carrier (FCA), Delivered at Place (DAP), Delivered at Place Unloaded (DPU), and Delivered Duty Paid (DDP).
The Bill of Lading Process
Incoterms 2010 didn't specify who was responsible for the On Board Bill of Lading. As a result, it had to be clarified in the contract if the parties were using the FCA. Since this proved confusing, the 2020 rules make it clear that the buyer should instruct the carrier's agent to release the Bill of Lading on the seller's behalf – with an annotation of "on board" to indicate that the goods have been loaded.
In the past, carriers would often refuse to issue an annotated bill of lading to the seller if they had received the goods from some source other than the seller themselves.
The Importance of Familiarizing Yourself
Understanding Incoterms is crucial for those engaging in international trade because they clearly state which tasks, costs and risks are associated with the buyer and the seller. But it's important to remember that not all rules apply in all cases. To better acquaint yourself with how Incoterms can impact your organization, visit the ICC website.
Additionally, we have created a Incoterms 2020 of Ownership Responsibility Guide & Chart. This is a helpful guide that you can use to familiarize yourself with the various stages of cargo liability and ownership.