On March 1, 2022, the Felicity Ace sank in the Atlantic Ocean. Traveling from Germany to the U.S., the ship was carrying thousands of luxury cars from Volkswagen, including Porsches, Lamborghinis, and Bentleys. According to Reuters, without international cargo insurance coverage the financial losses could equal upwards of $155 million.
Fortunately, Volkswagen's losses will saved by the company's cargo insurance coverage.
Insurance may not be the most exciting topic on shippers' minds these days. However, its intrinsic value should always be top of mind.
What Is Cargo Insurance?
Cargo insurance is not just designed to protect shippers when disaster strikes. Like homeowner's insurance, this type of protection helps you recover financial losses when your cargo or freight is either damaged or lost. In most cases, it is up to the shipper to ensure that they have insured their cargo.


THE DIFFERENCE BETWEEN INTERNATIONAL & DOMESTIC COVERAGE
The key point to understand is that Marine Cargo Insurance (the focus of this article) is not the same as insurance on domestic transportation. If you ship less-than-truckload or truckload freight domestically that does not have any international element involved, you would utilize general freight insurance.
Keep in mind though that marine cargo Insurance does cover the domestic inland transportation of an international shipment. For example, a container that is picked up from a port for inland drayage services will be covered.
At the same time, marine cargo insurance also covers international air shipments as well. You may hear people refer to cargo insurance using the term marine, which is typically related to the ocean. Nonetheless, international air forwarding shipments fall within the same bucket if they have foreign origins or destinations.
What Are the Risks of Not Being Insured?
It can be tempting to cut costs by avoiding coverage of international cargo. However, there many risks that you should consider when booking your next ocean or air shipment.
Here are two direct risks to consider:
The initial financial losses on your damaged or lost goods
The additional costs incurred by replacing your cargo
These are just a few of the potential financial risks you could run into without coverage. And keep in mind that incidents at sea happen a lot more frequently than the prime time news is able to cover.
While every accident that occurs at sea may not lead to direct losses on your cargo, there is one big reason you should consider coverage. And that is called General Average.

Understanding General Average
If a fire, natural disaster, or even a mechanical breakdown causes widespread financial losses during transit, ocean carriers can declare general average. When declared, this rule dictates that all shippers with cargo on the ship are required to share financial responsibility for any damages or losses.
Even if your cargo was not damaged during a fire, you would still bear part of the financial burden. Failing to pay the resulting fee would prevent you from receiving your cargo. It could also result in you being barred from moving international cargo in the future, which would be a critical supply chain disruption for any business.
How Often Does General Average Occur?
You might be surprised to learn that general average isn't a rare occurrence. In fact, it happens on numerous occasions every year. Sometimes the events that led up to the declaration are high-profile events that make the evening news. Others just fly under the radar.
As of the writing of this article, the Evergreen ship, Ever Forward, is currently grounded in the Chesapeake Bay. While General Average hasn't been declared yet (March 17, 2022), it is very likely that the shipowner(s) and their insurance carrier may make the decision to proceed with a declaration.
Here are a few notable examples of when General Average has been declared.
The Ever Given, 2021
You probably remember when the Ever Given blocked the Suez Canal for several days in 2021. Caused by an engine failure, the Ever Given created a massive headache for more than just its shippers. The Egyptian government, for example, impounded the vessel and demanded compensation of $600 million. At the same time, the blockage led to delays for dozens of other ships and its cargo.
General average was declared, and a complex legal saga will likely play out for years to come.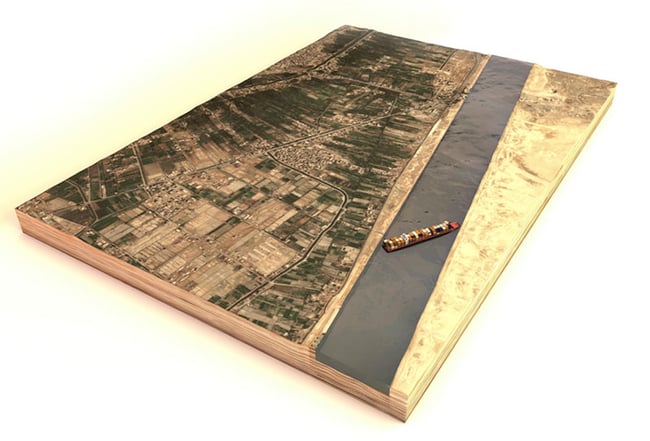 M/V MSC Sabrina, 2008
On the St. Lawrence River near Quebec, Canada, the M/V MSC Sabrina ran aground. The resulting rescue plan involved bringing in cranes to transload cargo to another ship. Additionally, multiple tugboats were brought in to help dislodge the Sabrina during high tide.
The resulting cost of the rescue of the Sabrina resulted in the carrier declaring general average. For their part, shippers were required to post a $125,000 Average Bond on cargo estimated at $110,000. The insured were protected, but the uninsured were not so lucky.
Coverage Options to Consider
There are varying levels of protection when it comes to cargo insurance coverage. In terms of ocean cargo insurance, here are three options to consider that provide protection from General Average declarations:
"All-Risk": This is the strongest protection a plan can provide. Perhaps the best benefit to "All-Risk" cargo insurance coverage is that you don't have to prove liability. All damages and losses are covered.
For large claims, though, a surveyor may be sent out to verify the value of goods and damages. However, there are standard exceptions, including for improper packing or rejection of goods by Customs. Another benefit to this plan is that it provides first-dollar coverage without a deductible.


Free of Particular Average (FPA): This is a good option for certain commodities, such as waste materials and scrap metal. FPA doesn't provide coverage for partial losses. It will cover losses for listed perils, such as sinking, collision, fire and General Average.


With Average (WA): This is an extension to FPA coverage that provides protection from weather events. For example, shippers can add additional protections via WA, including theft and pilferage.
Open Cargo Insurance vs. Single Shipment Insurance
Aside from the protection options, you will also need to decide whether to purchase open cargo insurance or single shipment insurance.
Your choice will depend upon how often you import or export products or materials. If you only move a few shipments per year, it makes sense to choose single shipment insurance.
For frequent international shippers, open cargo insurance can make the process a bit easier. This plan will provide a specified timeframe of protection on all your international shipment moves. And like buying in bulk, it can save you money in the long run.


The Flexibility of an Open Cargo Insurance Policy
One of the primary benefits of having an open policy is the flexibility it offers shippers. In addition to basically providing a discounted rate across multiple shipments (think in terms of buying goods in bulk), shippers are not tethered to one service provider.
This means that you could use a forwarder one month and then use a different forwarder another month. With open coverage, your shipments would be protected across multiple forwarders or brokers.
What Is Typically Not Covered?
With all the varying levels of protection, there are instances where damages or losses will not be covered. In general, these risks are ultimately up to the shipper to mitigate. They can include:
Damages caused by poor packaging (also called Inherent Vice)
Rodent or bug infestations
Rejection by Customs
Cargo abandonment
As you can imagine, these risks would not be caused by the ocean or air carriers. When working with foreign suppliers, ensure they are following the necessary guidelines to protect your international freight.
Choosing An Insurance Provider
There are several cargo insurance coverage providers available to you. You can partner with domestic providers or even companies located abroad. When shopping for a provider, you will want to consider the importance of convenience and customer service.


Why Use A Domestic Provider?
Many overseas insurers make it quite difficult to successfully negotiate a claim. They will generally require a much higher level of engagement by the claimant. Additionally, they may even introduce deductibles that might not have been known at the time of shipment.
Simplify Your Life By Bundling International Shipping & Insurance
You know how those commercials tell you that bundling your home, auto, and life insurance can make all of your paperwork and bills easier to manager? The same case goes for your international shipments and cargo insurance coverage!
Serving over 100 countries, Averitt provides end-to-end forwarding solutions that are protected all the way from the shipper's dock to your dock. We even offer in-house customs clearance. Additionally, we strive to help protect our customers' cargo because we know that the benefits outweigh the risks.
Our team can help you secure the best plans through our U.S.-based marine cargo insurance partners. Our coverage provides protection for imports and exports moving via ocean and air. If you're just needing customs brokerage, we can assist you and provide insurance coverage as well. Even better, you can count on great customer service in the event you file a claim since our partner agents are located in the U.S.
Our team can help you manage and simplify your international shipping needs. With a dedicated team of international shipping experts, we'll have your back through the good times and the challenging times!
Watch The Video Below To Learn More About Our International Solutions!
To learn more about international cargo insurance coverage and how Averitt can serve your global shipping needs, contact our team at international@averittexpress.com.