A Once-In-A-Lifetime Experience
For many people in the U.S., the 2017 solar eclipse will be a once-in-a-lifetime experience. Solar eclipses occur regularly around the globe, but what makes this year's event significant is that it is the first time since 1918 that the path of a solar eclipse has spanned across the entire U.S.
The event, which will occur on August 21st, is expected to draw thousands of visitors from across North America and around the world to the U.S.
Click The Image Below To View The Trajectory Of The 2017 Solar Eclipse.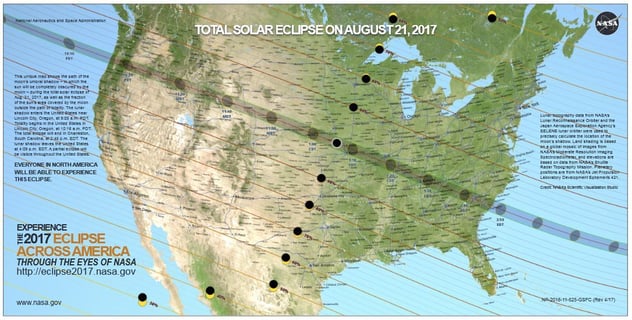 Photo courtesty of NASA.
Tips For Driving Safely During The 2017 Solar Eclipse
As a result of the popularity of the eclipse, drivers that choose to be on the road during the event will need to practice extra caution.
Don't Stop:

If you are driving during the eclipse, do not stop your vehicle or slow down in the middle of a roadway, or pull off on an emergency shoulder. General traffic rules will still apply and those that violate them will be subject to citations from authorities.


Don't Stare At The Sun: It can be very tempting to look directly at the sun as the moon begins its course across the sky. However, drivers should not look at it as the sun's rays can cause permanent damage to human eyes. Even though viewers can wear special eclipse viewing glasses to watch the eclipse, drivers should not put them on while driving as they are too dark to safely drive.


Turn On Headlights:

Leading up to, during and after the full eclipse, motorists will need to turn their headlights on. Even though the full eclipse will only last a couple minutes in select locations, visibility will still be impacted throughout the duration of the event.



Anticipate Traffic:

Thousands of visitors will be traveling to cities and areas in the path of the 2017 solar eclipse, including people from abroad. Metropolitan areas will be particularly impacted as people travel to and from city centers to view the eclipse. Additionally, major highways and interstates will have more vehicles on that road than usual. Plan ahead and be prepared to slow down and stop for traffic.


Bring Emergency Items:

No one is sure how the 2017 solar eclipse will affect roadways. Traffic in some areas could experience delays for several hours, or traffic might just move smoothly. Be sure to bring snacks and water, especially if traveling with children. Additionally, it's always a good idea to carry a safety kit in a car with items that can be used during an emergency situation or breakdown.

Not sure what to pack in an emergency kit? Check out this checklist and tips.


Tell Someone Where You Are:

Due to the numbers of people that are expected to descend upon viewing areas, there is an increased chance that cellular networks will be flooded by users. This could prevent many people from being able to make phone calls and send messages until the networks are below capacity levels. Drivers and travelers alike should inform friends and families of where they will be during the 2017 solar eclipse as to not cause any false alarms.

Potential Impact On Supply Chain Operations
With the expected traffic congestion, many markets throughout the U.S. can expect an increased risk of delays on shipment. No one knows precisely how the 2017 solar eclipse will impact the roads, but some shipments may even be delayed up to a day in certain areas.
At the same time, many schools, government agencies and businesses are choosing to close either early or for the entire day. Such closings could cause additional delays to pickups and deliveries if not adequately communicated to carriers.
For businesses that are in the path of the 2017 solar eclipse, it could be beneficial to communicate with service providers ahead of time to make alternative delivery plans or to switch delivery dates.
WHAT ARE YOUR THOUGHTS?
Do you have plans for viewing the 2017 solar eclipse? We'd love to hear about them and any other thoughts you have on this once-in-a-lifetime event. Talk to us in the comment section below!