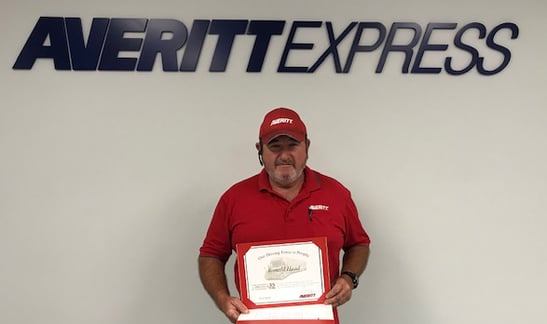 Each month, more and more Averitt associates are making major career milestones. From joining the ranks of our Over 20 Team to meeting safe driving accomplishments, these associates have played a major role in driving our company forward.
ASSOCIATE YEARS OF SERVICE MILESTONES
35 YEARS
Ronald Head (Cookeville, TN, city driver)
30 YEARS
Dwight Harper (Birmingham, AL, weight & research inspector)
25 YEARS
Robert Bruns (Orlando, FL, service center director)
David May (Tampa, FL, frontline leader)
Christopher Pierce (Tampa, FL, shuttle driver)
20 YEARS
LeighAnn Anderson (Cookeville, TN, human resources compliance leader)
Danny Green (Jonesboro, AR, shuttle driver)
Allen Harris (Atlanta, GA, OS&D associate)
Pam Stewart (Cookeville, TN, risk management associate)
ASSOCIATE SAFE DRIVING MILESTONES
30 YEARS
Don Arlinghaus (Cincinnati, OH, shuttle driver)
Gary Chesnut (Lawrenceville, GA, sleeper shuttle driver)
Dencil Kelley (Charlotte, NC, shuttle driver)
20 YEARS
Wilburn Powell (Fort Smith, AR, city driver)
Robert Taylor (Greenville, NC, city driver)
Photo: Cookeville city driver Ronald Head recently celebrated 35 years of service with Averitt.