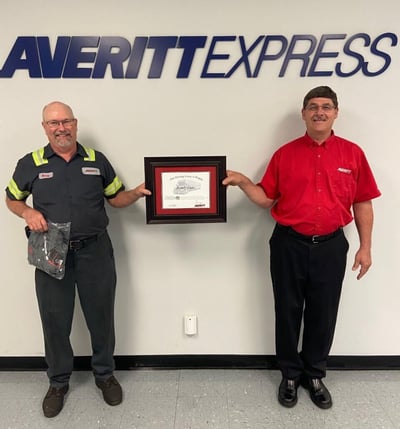 Each month, more and more Averitt associates are making major career milestones. From joining the ranks of our Over 20 Team to meeting safe driving accomplishments, these associates have played a major role in driving our company forward.
ASSOCIATE YEARS OF SERVICE MILESTONES
40 YEARS

Randy Duke (Cookeville, TN, preventive maintenance associate)
35 YEARS

Tony Presley (Atlanta, GA, FlexForce city driver)
25 YEARS
Robert Moore (Orlando, FL, shuttle driver)
Dan Singer (Lawrenceville, GA, vice president of Supply Chain Solutions operations)
20 YEARS
James Uptain (Birmingham, AL, sleeper shuttle driver)
ASSOCIATE SAFE DRIVING MILESTONES
25 YEARS
Joseph Lane (Tampa, FL, shuttle driver)
Steve Pearce (Tifton, GA, city driver)
20 YEARS
Aaron Aycoth (Charlotte, NC, shuttle driver)
Reginald Clark (Augusta, GA, city driver)
Shannon McFerrin (Nashville, TN, city driver)
Scott Rice (Lexington, KY, city driver)
Mike Wuellner (Cincinnati, OH, city driver)
Photo: Cookeville preventive maintenance associate Randy Duke (left, pictured with shop leader David Young) recently celebrated 40 years of service with Averitt.