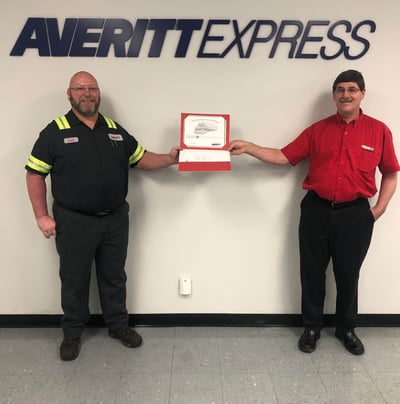 Each month, more and more Averitt associates are making major career milestones. From joining the ranks of our Over 20 Team to meeting safe driving accomplishments, these associates have played a major role in driving our company forward.
ASSOCIATE YEARS OF SERVICE MILESTONES
30 YEARS
Todd Hallums (Cookeville, TN, preventive maintenance associate)
Scott Rice (Lexington, KY, city driver)
25 YEARS
Ken McCullough (Norfolk, VA, city driver)
Steve Tomsic (Cookeville, TN, fleet operations manager)
20 YEARS
Brian Patterson (Birmingham, AL, shuttle driver)
Kim Ruggieri (Miami, FL, transportation sales specialist)
ASSOCIATE SAFE DRIVING MILESTONES
25 YEARS
Scott Beaman (Roanoke, VA, shuttle driver)
John Mevorach (Orlando, FL, city driver)
Troy Perry (Louisville, KY, city driver)
Christopher Pierce (Tampa, FL, shuttle driver)
20 YEARS
Felix Alamo (Orlando, FL, city driver)
Cesar Botello (El Paso, TX, shuttle driver)
Richard Krome (Vance, AL, Supply Chain Solutions driver)
Photo: Cookeville preventive maintenance associate Todd Hallums (left) recently celebrated 30 years of service with Averitt.