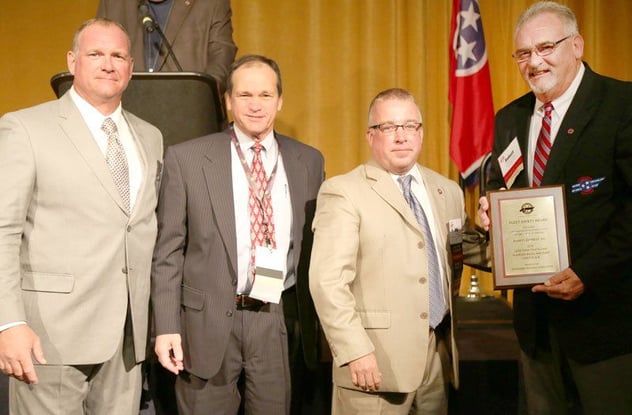 COOKEVILLE, Tenn. (November 16, 2016) – The Tennessee Trucking Association has awarded Averitt Express with the 2016 Clean Diesel Award and the 2016 Fleet Safety Award.
The Clean Diesel Award recognizes organizations that take action to improve air quality through clean diesel actions. Averitt has been recognized for its ability to reduce air pollution through fuel efficiency efforts and carbon emissions reduction. This is Averitt's third consecutive year winning this award.
The Fleet Safety Award recognizes an organization's driving safety. The contest measures the number of accidents for a specific mileage category. Averitt was presented with first place in outstanding safety within the largest division of the contest.
"We're humbled to earn these awards from the Tennessee Trucking Association," said Wayne Spain, Averitt's president and chief operating officer. "Our team is committed to being good stewards of the environment and providing transportation solutions in a fuel-efficient manner, and we will continue to work to make sure we deliver those solutions with a focus on safety."
The awards were presented at the TTA 86th Annual Convention, which was held in September in Destin, FL.
Photo caption -- Averitt Express was recently honored by the Tennessee Trucking Association with its 2016 Clean Diesel Award as well as its 2016 Fleet Safety Award. Accepting the honors on behalf of Averitt Express are director of safety and compliance John Walton (second from left), and driving associate Robert Crabtree (right), who also serves as a TTA Road Team Captain.