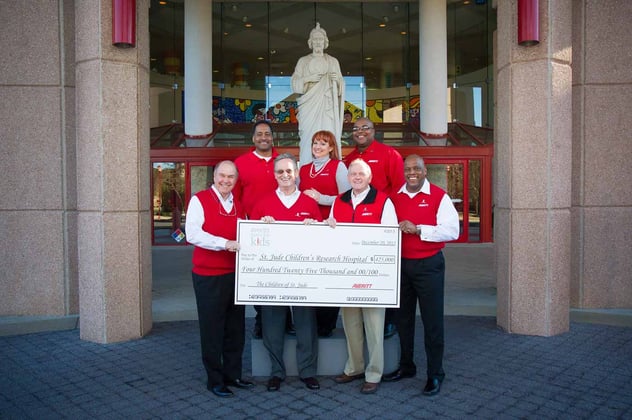 COOKEVILLE, Tenn (June 27, 2014) — When Averitt Express associates made their most recent donation to St. Jude Children's Research Hospital, they also made a special visit to the hospital's Memphis campus. In addition to presenting a check for $425,000 - funds that come directly from Averitt associates through the Averitt Cares for Kids charity - a special arts-and-crafts session with St. Jude patients was on the schedule.
Making everything from wallets to bracelets, the Averitt associates and St. Jude patients shared some quality time together, something that goes far beyond any amount of charitable contribution. A video that shares some highlights from the day can be found at AverittExpress.com/StJude.
"It's energizing to see how much of a difference our associates can make with just a weekly $1 donation to Averitt Cares for Kids," said Gary Sasser, president and CEO of Averitt. "This program is a powerful example of how much can be accomplished when people work together."
Since 1986, Averitt Express associates have raised nearly $7 million for various charities and causes, with more than $4.4 million of that going to St. Jude.
The annual Averitt Cares for Kids contribution to St. Jude helps support the hospital's mission to find cures and save lives of children battling cancer and other deadly diseases. Consistent with the vision of St. Jude founder Danny Thomas, no child is denied treatment based on race or religion and no family ever receives a bill for treatment, travel, housing or food, because all they should have to worry about is saving their child.
In September 2007, Averitt Cares for Kids completed a $1.5 million endowment to help fund the initial construction of the Averitt Express Leukemia and Lymphoma Clinic, through which the majority of St. Jude patients are treated.