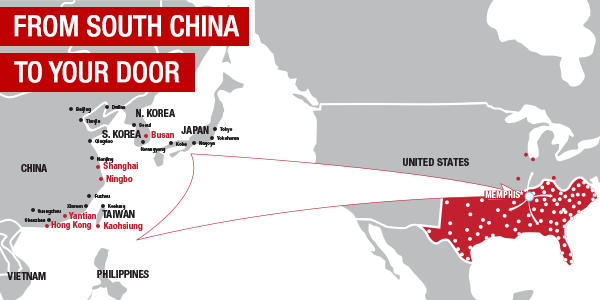 An innovative combination of ocean service and inland transportation that cuts transit times by up to 10 days, the Asia-Memphis Express has set the bar of excellence for LCL service from Asia to the Southeast for several years.

Now, we are proud to announce that we have expanded this cost-efficient service to provide customers with greater access from South China and Guangdong Province with weekly departures from the Port of Yantian.
How does the asia-memphis express cut transit times?
In China, we consolidate the LCL cargo of several customers to help reduce the overall cost of shipping by sea.
Once the shipments from South China have been containerized, they are loaded onto a vessel at the Port of Yantian and booked to the ports of Los Angeles and Long Beach. After arriving at the West Coast, the container is moved directly to our distribution center in Memphis via rail.
In Memphis, we deconsolidate the cargo and prep your shipment(s) for delivery or distribution throughout our LTL network.
A complex service made easy for shippers
International shipping may often seem daunting and complex. Fortunately, our team's expertise in international logistics and operations means that the process is relatively simple for the customer.
With an international office in China, we can provide assistance on both sides of the Pacific. Additionally, our in-house team of customs brokers are ready to help you with clearing the hurdles of importing from China and elsewhere.
And as always, when you partner with Averitt for your international needs, you can also count on the simplicity of:
One Contact. One Invoice. Zero Worries.
That's The Power of One!
Call For A Quote Today!
Or email the International Solutions team at internationalimports@averittexpress.com.