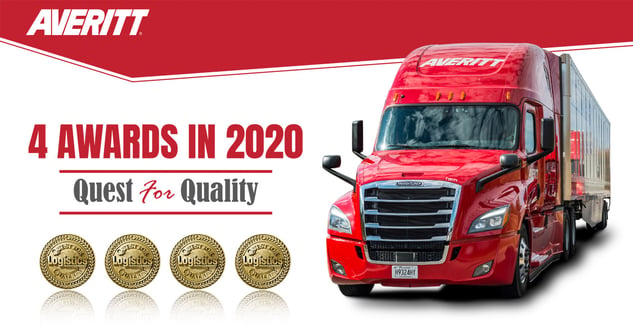 COOKEVILLE, Tenn. — Readers of Logistics Management magazine have recognized Averitt Express as a top transportation and logistics services provider in the publication's 37th Annual Quest for Quality Awards.
The Quest for Quality Awards poll is notably one of the most extensive shipper satisfaction studies within the transportation and logistics industry. The honors are determined by several criteria, including on-time performance, value, information technology, customer service, and equipment operations.
Among the multiple categories that Averitt was honored in, the company's technology offerings were ranked number one in the nation. Aside from boasting an array of easy-to-use online shipment management tools, the company's transportation management systems (TMS) enable shippers to streamline their shipment operations.
Averitt Connect, a free-to-use TMS, allows shippers of any size to easily shop for less-than-truckload rates among the nation's leading carriers, and book, track and manage shipments from an online portal. Additionally, the company offers a dedicated transportation management service called Averitt Enterprise. Geared towards high-volume shippers, Averitt Enterprise combines the power of an Oracle TMS with a dedicated account team that can help manage nearly every operational aspect of company's supply chain.
"From shipping to inventory management, we've laid a foundation of technology that allows our shippers to vastly improve the efficiency of their operations," said Averitt president and chief operating officer Wayne Spain. "We are honored to be recognized by the shipping community for our efforts to modernize different areas of the supply chain through technology."
In addition to the technology recognition, shippers scored Averitt high in three other categories:
Since the Quest for Quality Awards program began in 1984, no other carrier in the South has earned more honors than Averitt.
"Our team has always been dedicated to delivering a high-quality service to our customers, " said Spain. "Whether it's the technology used to book a shipment or the experience a customer has with a driver, our focus is to build long-lasting partnerships that enable our customers to succeed and grow."
Category Rankings