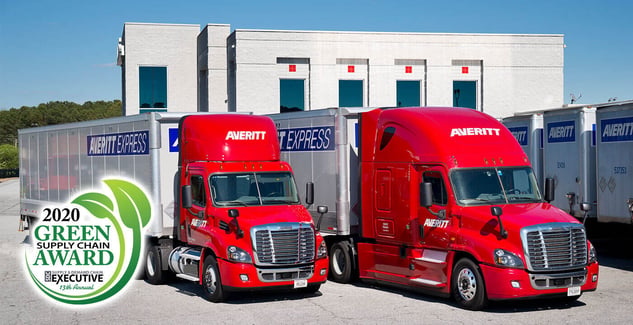 Supply Demand Chain Executive, an industry trade publication, has selected Averitt as a recipient of the SDCE Green Supply Chain Award for 2020.
The Green Supply Chain Award recognizes companies making green or sustainability a core part of their supply chain strategy and are working to achieve measurable sustainability goals within their own operations and supply chains. The award also recognizes providers of supply chain solutions and services assisting their customers in achieving measurable sustainability goals.
"This year's 13th-annual award recognizes small, mid-size and large enterprises that leveraged green practices and solutions to further drive sustainable improvements in their supply chain," says Marina Mayer, editor-in-chief of Supply & Demand Chain Executive and Food Logistics. "From software solutions to transportation management systems to several other initiatives designed to reduce carbon footprint and improve the re-use of materials, sustainability continues to rank as a key component to a stronger, safer and more efficient supply chain."
In terms of the company's commitment to environmental sustainability, Averitt continually seeks innovative solutions and technologies to reduce its carbon footprint within the supply chain. In 2004, the company became a charter member of the Environmental protection Agency's SmartWay® program. By investing in the industry's most modern trucks and trailers, in conjunction with optimizing its fleet routing, Averitt has made several measurable achievements that provide a positive impact for its customers, including:
36% reduction carbon dioxide emissions
84% reduction in nitrogen oxide emissions
2.5 million gallons of diesel fuel saved
"Our team is committed to adopting and promoting sustainable practices throughout our organization and to partnering with our shippers to develop better practices within their supply chains, "said Averitt president and chief operating officer Wayne Spain. "We are continually seeking out new technologies and practices that will enable us to reduce our environmental impact and also help set a standard for supply chains of tomorrow."
In March 2020, Averitt unveiled the modular crate system called Smart Crate that fuses technology with reusability. Compared with traditional wooden crates, Smart Crate can provide savings on packaging costs of up to 40% per shipment and reduce product transit time by allowing crating to occur at the point of production. Manufactured using all recyclable materials, the system also reduces environmental impact caused using wooden crates.