CUTTING ENVIRONMENTAL WASTE & IMPROVING ORDER WINDOWS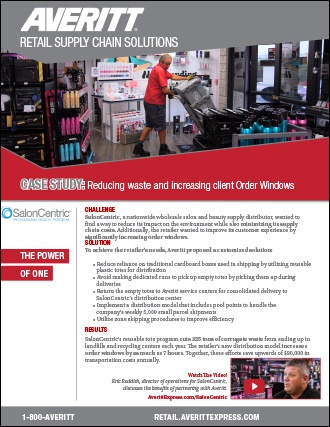 SalonCentric, a nationwide wholesale salon and beauty supply distributor, wanted to find a way to reduce its impact on the environment while also minimizing its supply chain costs. Additionally, the retailer wanted to improve its customer experience by significantly increasing order windows.
With Averitt's customized supply chain strategy, SalonCentric cuts 325 tons of corrugate waste from ending up in landfills and recycling centers each year. Also, the retailer's new distribution model increases order windows by as much as 7 hours. Together, these efforts save upwards of $90,000 in transportation costs annually.
To find out how we did it, fill out the form to download the case study!